We all wish we were going …
The Championship Tour heads to Europe where we are going to see a helluva world title showdown. There are many ways it could go, and there is no clear-cut winner this year. Europe is often host to some of the most exciting moments in a year's worth of surfing. Here are a few from yesteryear that I haven't been able to forget no matter how much I try. 
Fisticuffs between Andy Irons and the Pelt.
Once upon a time I witnessed a cool fight on a beach in France. Fighting isn't cool, but this one was good because it involved AI, The Pelt (Mick Campbell) and Kong. At that stage I was young, impressionable, and nervous of pro surfers and their vibe.
AI lost to Mick in Hossegor, and proceeded to call him nasty but funny names from the showers at the event tower. Mick stuck by his red hair make-up and smacked Andy a nice one in the gob. In retaliation Andy tried to hit Mick over the head with his surfboard but didn't connect properly as Mick deflected the board, and then Kong arrived and settled every one down. It was definitely Mick Campbell's victory, but he ended up paying a decent sized fine for our hilarity.
The Donavon Dress Code  
We were at the opening function of an event in France and we were all being treated to great food and drinks as used to often be the case at event opening functions. I was hanging out with a good friend of mine who was an American journalist at the time. We were joined by none other than Donavon Frankenreiter, decked out in a purple shirt with leather tassels and a cowboy hat and boots and all sorts of fine old-fashioned regalia.
"Where did you find the gear?" asked my journo friend who it turned out knew Frankenreiter well. "Did you find it at a second hand store?"
Fair question.
"No," he said. 'My sponsor ********* gave them all to me. They give me all my gear. I think they made the shirt." 
My romantic notion of Donny the hippy was gone out the window.
Flamboyant threads have always been part of the Frankenreiter act.
Andy's Bunny Hop  
A nice little bank had formed up just past the Seignosse car-park, and there was no one on it yet. I paddled out with an Aussie mate and we enjoyed the perfect right-handers peeling down the bank. Andy Irons and a few of his friends paddled out and proceeded to take every single wave that was breaking. We slowly drifted away from the bank, our session over. Andy caught this wave that had gone wide and cam screaming down towards us. He was going at full speed and we were snoozing and eventually it looked like we were going to collide. It was a sudden panic. As AI approached, he hit a little bump, grabbed his outside rail and did a little air over my legs, before continuing down the line. My friend thought it very funny.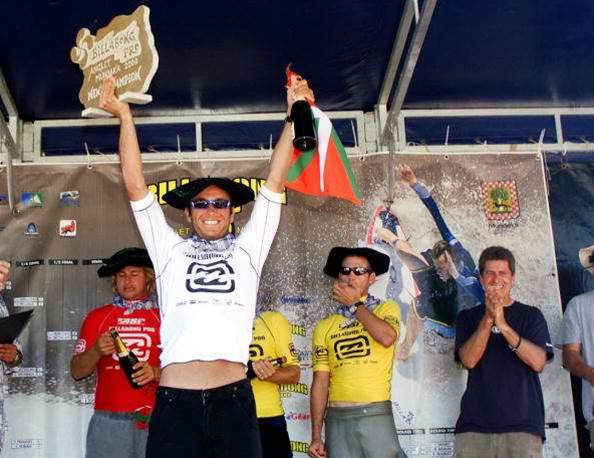 Shane Dorian claims victory at Mundaka back in 2000.
The Mad Dash to Mundaka    
We didn't expect it to be on. It was too small, but we suddenly heard that the contest was on in Mundaka. We were still in France, and I was covering the event for one of the major American mags. I had to be there. We started driving and they started surfing. There were a lot of things against us. The traffic was horrendous, the tide was starting to come in, and there weren't too many heats to surf in the event. It was a long, fast, hard drive there, and as we approached the little car park at Mundaka the siren went. Missed the final. Shane Dorian won and I managed to see them throw him into the river. I watched a set disappear into the high tide. There was no chance of getting in the water even. The waves were bad, but not as bad as my contest report.
Main Photo: Christie
Tracks