Tracksmag.
| | |
| --- | --- |
| | Tracksmag.com slipped global marketing director of Rip Curl and board member of the ASP Neil RIdgway a red wine truth serum in Spain and pried some very interesting stuff out of him about the new tour changes – interview by Sean Doherty |
Tracksmag.com
slipped global marketing director of Rip Curl and board member of the ASP Neil RIdgway a red wine truth serum in Spain and pried some very interesting stuff out of him about the new tour changes – interview by Sean Doherty.
Happy with the outcome? Did you see it as a victory for common sense?
Yeah, I'm happy that the two owners of the ASP stuck together and did the right thing. The surfers and the event licensees own the Association of Surfing Professionals equally, and for us to be able to look each other in the eye and find some really common points of view and make some decisions pretty quickly and decide on them together was great.
And for those guys to stick together as WPS [World Pro Surfers] when there was – however nebulous it might be – some other option on the table. That was great too, and a credit to them. And like you say, it's a victory for common sense.
There are 30 years of investment in the current ASP world tour, and that's not just in money. It's all of the lives and the effort of the events crew and every heat that every surfer has ever surfed in its history. That all adds up, so why would you walk away from that for something with nothing behind it?

When you first saw plans for the Champions Tour laid out on the table, what were your thoughts on the concept they were pitching?
At first I thought, whoa! What is this? And then I met with them on behalf of the Events Council because I needed to get as much information as I could to present back, as did others, because they were asking the current licensees to be possible sponsors of their events and I got to understand the concept.
My impression? I didn't see the need to walk away from what we already had, nor to take the risk in handing the ASP world title over to anyone else.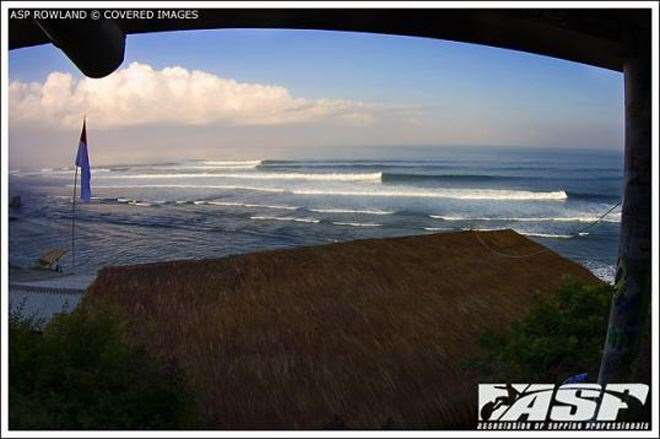 Pic: Bali's Uluwatu was a Search favorite for the goofy-footers, though it was the natural-footed tube freak Bruce Irons that won.

What were the factors that influenced you to do that?
From an Events Council point of view we already had a solid, clean, bonafide world tour with nine-year licenses and world-class surfers and events. What is the profit for anybody in laying something over the top of what's already there and creating a lock out for existing events and surfers at the world title level? There's nothing new in that type of concept – it's just another layer.
But I remain open to new ideas, things like the IPL cricket where it's razzle dazzle, different formats, legends mixing with current athletes, fireworks, music, dancing girls, X-Games – whatever the proponents see as working is possible.
Then what's happening with Parko [Joel Parkinson] and Kelly [Slater] and Mick [Fanning] and the top 32 in high performance pro surfing and the chase for an undisputed world title, that can stay pure. I actually reckon a showcase concept would be great and would be complimentary to the tour, but the big gig is the ASP World Crown.
Did the idea of the two tours – a world championship tour and an exhibition tour - working together ever get an airing?
Yeah, we talked about the possibility of that in the LA meeting, and Brodie Carr and I left them with that as one thing on the table. David Dodds, their TV guy was open to that being on the table. I'm sure if it were commercially viable for them and what they saw as good value, they would come back to go further with it. These guys are not dummies.
The Champions Tour had ESPN in their corner and made a lot of noise about it. There was no mention at the ASP conference the other day of any changes to the existing media arrangements where each event controls its own media. Can we expect a change?
ESPN were actually at the meeting I attended and I was also there when they presented to the surfers. We spoke to ESPN then, just as we've spoken to ESPN in the past, as ASP and individual licensees. We like them and what they have to offer, but they don't want to hitch their wagon with the current ASP World Tour. They like the "time buy" (where you pay someone to put your sport on their channel) and associated media platforms pitched by CST and I guess they will remain partners.
But we also like free to air in Australia and FUEL and FOX Sports and Eurosport and Globo [TV International] and ESPN in Brazil and GAORA in Japan and a host of other networks and we work with them all at present across the planet. In fact, from Portugal we will be doing live TV on FUEL in Australia and USA and live TV with ESPN Brazil.
Television highlights distribution for ASP is already good for a third tier world sport. We get into 117 million homes around the world via distribution with TWI on free to air and cable with our event shows on the men's and 70 million with the women's world tour shows produced by FUEL and syndicated on, but we can always improve. Cracking North America is always hard and a "time buy" could help that – if we thought it would be worth spending the money to get the ratings.
And we're getting great webcast numbers. Some of the top people in media worldwide are benchmarking our numbers as high, but we aim to improve there too and we need to be harder in rules and formula to promote consistency, without taking the creativity out of it. Look at the innovation that has come from all of us doing different things with our webcasts. Pro surfing pioneered that. Five years ago there was one camera on a stick. Now it's four-or-five angles, Multilanguage, heats on demand and all systems go. In the past it's been incredibly hard to co-ordinate some events, but I think that will be easier now post Mundaka 09. That's important to the surfers too.
The trick now will be for the ASP Media Development Committee to pick the best bits, make them compulsory and have penalty for non-compliance by Event Licensees. That will make for more consistency and attract some one stop media deals.

Can you see a bundling deal on media rights coming in the next couple of years?
To be clear, we've always said we would hand the media rights back as a group of event licensees and surfers, provided the right deal was there.
At the moment there's no one out there who wants to pay for those rights – except us - and they cost us $50,000 US per men's event. I'll be blunt with you. I've asked some of the top guys going around in Australian and US media to buy our rights and they have said straight to my face, "We don't want to buy the rights to your sport, but you are doing well through independent placement in countries where surfing is in its second generation and front of the public mind and with your webcasts so concentrate your efforts there." I hope to convince them that the value is there for them too and that a model can be eventually worked out.
In North America the interest from a mainstream TV audience in surfing is still miniscule. There's a stretch of coast from Santa Barbara to San Diego and a few spots on the East Coast where your main audience lives but to be honest they're all watching on the webcast, buying surf mags or online surf media, getting content free online, or seeing it in one of many, many surf shops.
ASP webcasts are getting bigger cross audiences through partnering with mainstream websites and telcos, but for TV, land-locked non-surfers don't get that an eight-foot tube-ride or an eight-foot aerial or an eight-foot wipeout can all be just as spectacular! So as far as surfing being on TV in bars across the country in the US, well that's another thing altogether. It'd be up against the NFL, NBA, NASCAR, baseball on the main channels… and that's before you even get to college sports, which they're psycho over. And, sure as shit the bar owner is going to put the footy on instead to keep the customers in there. And the advertisers buying the spots will recognise that too eventually. Surfing is not at the right level of acceptance yet, that's all.

One of the major gripes amongst the surfers fuelling the genesis of the Champions Tour was that The Big Three – Quiksilver, Rip Curl and Billabong – through their voting power on the board of the ASP, have blocked money coming into the sport from outside sponsors. How true is that?
It's simply not true. Remember – the surfers and the events have equal votes on the ASP Board. We would welcome anyone who has the money to come and take up an ASP Licence and run an event. Quiksilver made the facilitation of the Fiji License to Globe really easy for them when they stepped up. In my time on the ASP Board there has been one instance where we could have taken some money for a blanket tour sponsorship, but both the surfers and the events voted against it at Board level and we all worked really hard to retain Fosters a few years back, but they wanted out. It wasn't the right fit in the end.
Look at the non-endemics we do have on our tour. At Bells Rip Curl have Virgin Blue, Jim Beam, Ford, Tooheys, Snickers, Coke, Victorian Major Events Corp, Telstra, MySpace. In Spain at the Billabong Pro they have Yamaha, Coke and Monster Energy. In France at the Quiksilver Pro they have Orange, Sony Ericsson and Virgin Radio. It goes on.
These are some of the biggest brands in the world, but they're not running up to the governing body going, we want to sponsor your events. Instead they come to us as the niche surf marketers and go, you guys are already marketing to these people so we'll partner up with you on your events and open the door to all your other programs – other events, year long websites, in store promotions and so on. It's too difficult for them to build something on their own when we're already a direct link to the audience.
The ASP model works on the Licensee paying for the production of everything, which then buys the Licensee the ASP sanctioning and event IP and the media and the sponsorship rights included. In Bali Rip Curl paid for every single cent of every single thing because we couldn't get any sponsors in that developing market and it was still worth every cent. $1.9 mil of Rip Curl's own money. But at Bells and Portugal we don't have to pay for every thing because we're in switched on markets where we can get partners to help us reduce our costs and there's mutual benefit.
So think of someone like Qantas, if they took up an ASP Licence and called it the Qantas Pro, they could sell off bits of it to Playstation or Vodafone…

Or Rip Curl…
Or Rip Curl. They could do that for sure. Someone has to commit to the Licence and pay for it first; otherwise you'd have no tour. It's the Big Three plus Vans, plus Hurley plus the Brazilian independents, and Layne Beachley, City of Taranki, Moviestar and Vans on the women's side who have actually made a commitment in dollars to stage ASP events. Then there's all the WQS [World Qualifying Series] events as well. There's nothing sinister about it; it's just that those companies have made the commitment to pay and pay more often. The Big Three believe in it so they back it with their own money hand in pocket.
And it's not always that non-endemics don't like the ASP world tour or they don't like surfing. Sometimes there's no direct marketing campaign to connect with for them. Poor timing, maybe? You should try working with a global non-endemic brand. You think you'd be able to go to someone like Snickers and go, "You guys are in with us in Australia, do you love it?" They'd reply, "Sure!" Then you'd go, "Well let's do it with Snickers all around the world!" And they'd go "Ah... we can't control other parts of the world, sorry."
The thing is the budgets aren't global, they're spliced up individually and getting global agreement is tough. Fosters International might have loved pro surfing, but Fosters regionally, where the actual dollars lived might go, "Sorry, we're involved with horse racing and motor bikes or spending our money on five million dollar ads this year, we're out."
That's the clincher, the surf companies like owning the ASP licenses because we love running the events and we love watching the guys and girls surf. It's good for us all.
What has the board and the ASP learned through this whole process?
When you look at the ASP world tour you ask, is it actually broken? You'd have to answer … No, it's pretty bloody good! You look at one day in J-Bay at the Billabong Pro for instance this year, where you've got two awesome ASP legends Curren versus Occy, there's a runaway ASP ratings leader in Parko scoring perfect 10s. The 2007 ASP world champ Mick, gets beaten by a rookie with a perfect 10. Kelly, the nine-time ASP world champion gets four waves over 9.0 in his heat, the waves are six-foot and pumping the satellite news feed goes out, the surf mags and websites are on it, ASP Media and AAP and Reuters are feeding the print press with news and the webcast is sweet. You're kind of left scratching your head going, "Well, what's wrong with this?" I'm not sure how to make it much better.

Pic: La Jolla Mexico was one of Rip Curls best Search event.
I think there are a lot of things that get worked through that take a long time to come to fruition, and there's no doubt that the new tour concept was a catalyst to make things happen more quickly. Especially us listening to the little things that will make the surfers feel more comfortable. Even if we thought we were on top of it, there's room for improvement and we agree to listen harder.
As people get more comfortable with successful change and they're not afraid of it they tend to want to change more. It'll be an exciting next couple of years, but you have to get change right or you could blow it for no reason.
– Sean Doherty
Tracks