Leo Fioravanti explains what he had to pull off to become a WSL giant killer.
PIPELINE POLE DRIVER
It was on the 31st of January 2015. It wasn't perfect Pipeline at all – messy a little windy and getting bigger so there was a lot of double ups. I waited a while for a good one and a bomb stood up so I turned around and went, but I wasn't in the right spot for it. I took off under the lip and the wave didn't throw out enough so I didn't manage to knife it. When I first fell off it was minor but then I started going back over with the double up and I sat down and got compressed on the reef. It was the most painful thing I've ever felt in my life. Luckily the jetski was there to pick me up and take me to the beach.
BAD OMENS
That winter 2014/2015 I surfed Pipe a lot of times, I was there from November to end of January and I actually did feel invincible, I went on so many waves that weren't makeable and had some heavy wipeouts. One of the photographers I shoot with, Timo Jarvinen, told me afterwards that he felt like something was going to happen because I had so many bad wipeouts already.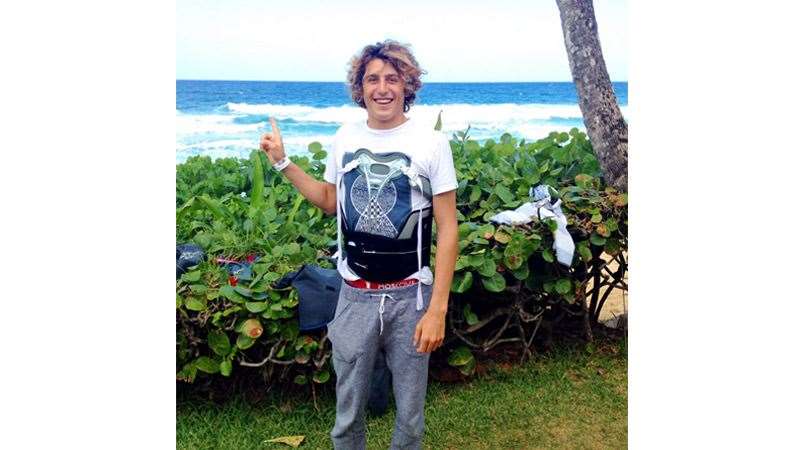 SCREWED
In Hawaii they told me I didn't need surgery and they gave me a back brace but as soon as I got back to France I went to see a specialist and he told me that I needed surgery because the Vertebrae L1 wasn't only fractured but was tilted forward and he had to move it back. He ended up putting in four screws and two rods, which he took out three and a half months later.
After the surgeon told me that I needed surgery and it was worse than what I initially thought, I had some thoughts in the back of my mind. Coming back from his office that day I was crying in the car for a while and Belly (Stephen Bell) was telling me that it would be fine but I was scared, very scared.
RECOVERY RITUALS
I put in so much work, I went to the CERS, which is a center of rehabilitation for athletes, a lot of the best athletes in Europe go there, and I trained my ass off for three and a half months non-stop, eight hours a day. It was hard but I knew that it was the only way and I just had to do it. I had so many steps to recovery because of the brace so everything took time. I was out of the water for four and a half months.
I'M BACK
There was a wave that made me think I'm back! In the final at the ISA Juniors (which he went on to win) in Ocean side I got a 10 on my first ride, did a turn and a big air and stuck it! I felt like I was on top of the world! I had some drops of joy after that wave, haha.
DÉJÀ VU AT PIPE
My first day back at Pipe was pretty scary. I was stressing so much; it was fine going Backdoor but going left just took so much effort, I was very scared. It was a solid day and super- crowded and I managed to catch two waves, one was a good one and I stood up in it but I fell off right at the end with the spit and my second one was a big wipeout. I went straight over the falls and was just waiting for the reef to hit me but luckily it never came. In that moment I had the biggest Déjà vu and it was like a nightmare. I definitely approach Pipeline differently now, knowing what it can do to you.
WATCHING OTHER SURFERS GO DOWN
Yes it brings me bad memories. Owen's wipeout not so much because it wasn't a big wipeout, instead he got caught by a big set, but Bede's Pipe Masters fall was almost exactly the same as me. He went over and hit the reef straight away and the jet-ski picked him up and took him to the beach the same way they did with me. I couldn't watch the whole thing; it brought back too many bad memories.
PLAYING THE GAME AT PIPE
I am pretty confident at Pipe now but I definitely think about it more before catching a wave. Yes, I've had a couple good barrels and it feels so good and every time I make the wave so much weight drops off my back. I am way more careful now before catching a wave at Pipe, and if it's a bomb of course you are gonna charge it but you must know before if it stays open or if it's a close-out.
There are so many people out at Pipe when it's pumping, so it's hard to catch some good ones. That's why when you get a good one it makes your session so much better! It's the best feeling ever! That's why we go back out there, even after a bad wipeout!
Tracks