Justen "Jughead" Allport opens up on his experience during the Red Bull Cape Fear event.
"How are the waves?" asks 42-year-old Justen "Jughead"Allport when I answer the phone. While that doesn't seem like an overly weird question, it's the timing that makes it a little absurd.
You see Jug is currently in the back of an ambulance, his head leaking claret. Only 20 minutes earlier, he was plucked semi-conscious from the water at the Red Bull Cape Fear Event after a horrendous 15-foot mountain of water planted him on the reef. Now he was on the way to St. George Hospital about to get 15 stitches to the back of his head and be observed for concussion.
Today, with the gash on his head healing up, Tracks got Jug on the phone to talk wipeouts, big barrels, Cape Fear and how he's feeling a week or so after the event's wrapped up.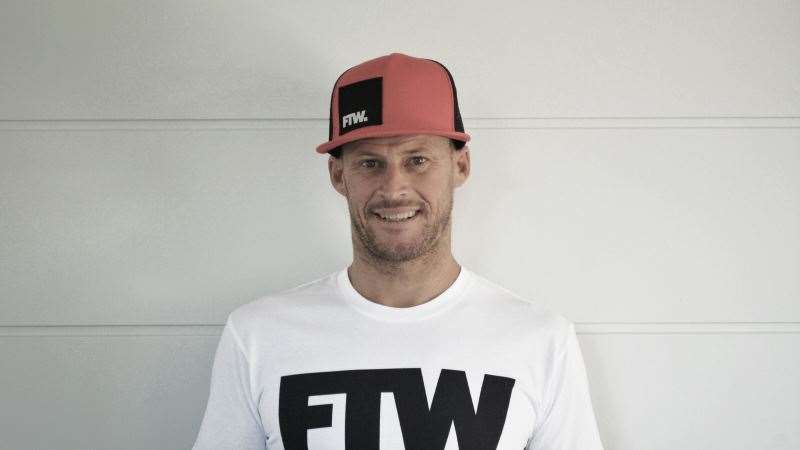 Tracks: Talk us through your invite into the event. Originally you weren't invited, but you got the later call-up?
Jughead: Before the comp was even called, I thought there might have been a day worth going down to surf. Then I got word the comp might run, so I wrote it all off and thought I'd go down and watch Albee Layer surf in it, not realizing he'd pulled out. Then I got a message from a number I didn't have in my phone asking me to be in it. I thought it was a mate taking the piss, but it turns out it was Mark Mathews.
You went to the competitor briefing the night before the first day of the event where they pretty much told you that if you hit your head, you might die, am I right?
(Laughs) Pretty much. It was kinda funny that night. Looking around the room it was almost like we were in school detention giggling at little things under our breath. Then we had to sign all these forms, I just signed away because I wanted to go and hang with my wife and kids. Even now, I have no idea what those forms said. I was just thinking 'sick I get to surf Solander with four other guys for an hour.' I mean, I'd sign anything to do that. That's kinda stupid hey (laughs)?
What was your first impression when you turned up at the event site that morning?
We were all on a massive coach from the hotel to the event. I had my wife and three kids on there and it was like we were the loudest by far. Everyone was really quiet and it made things pretty eerie. I thought the bus would have been going mental and everyone would have been frothing. When we got to the event I just ran down the hill to get a glimpse of it and a bunch of guys were throwing around a few negative comments about how it didn't look rideable or they hadn't seen a decent one yet. I had to walk away. I thought 'if I've got to surf this in a few hours, I don't want those words stuck in my head.' I just wanted to surf, not hang around with a bunch of nervous energy.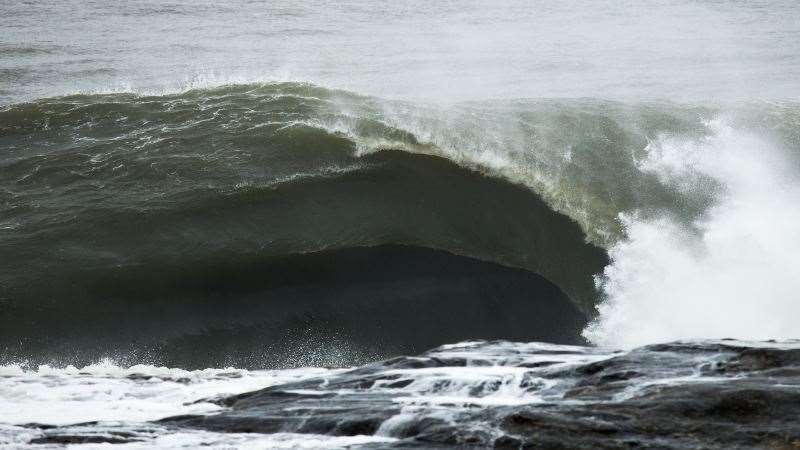 The horror scene that greeted competitors as they arrived. Photo @benbugdenphoto
When they got all the surfers together in a meeting to make a call on whether the event should run, was there anyone who didn't think it should go ahead?
No one. All 16 surfers were given a blank piece of paper to vote yes or no to running. That way no one felt any pressure or anything like that. Before anyone had even wrote anything down, one surfer stood up and said, 'We're running, it's on!'
I know you're a bit of a mentor to Riley Laing, did he come to you before the event began to sound you out or get any advice?
We chatted a little bit. Looking back I kinda feel bad that I didn't say more and spend some time with him. I think I was so nervous that I just wanted to get out there. When I actually hurt myself, I have this weird recollection of me on the sled giving Riley tips about not getting sucked into the peak or not going too deep. Although, his recollection of this moment was telling him to call my wife and kids and make sure I'm okay (laughs). He reckons I said it to him four times. I think I got a bit more scared for him and Russ (Bierke) after I hit my head.
You ripped the Band-Aid off pretty quickly so to speak. When a lot of your fellow competitors chose to enter the lineup via a boat from the harbour, you chose to rock off. Why?
I just wanted to get out there and the boat was going to take at least 20 minutes to get out there. I really just wanted to feel it out from the water. Plus, I reckon you can sometimes get just as big a thrill jumping into waves like that as surfing them. I actually thought I might get a bit of a warm up tow, but it didn't really happen that way. Somehow I ended up being the one sitting in the channel waiting for a ski on the first run (laughs). To be honest, that pissed me off at the time, but once I got a wave I got over it pretty quick.
What did your wife Katie and the kids think when you told them you were heading out?
I think they were excited. I just wanted for someone to make a call that the comp was going, I didn't want to be the one jumping up and down like a dick saying 'I'm going out!'
Talk us through your first wave; you threw up double peace signs and had your tongue wagging as the thing swallowed you. Were you running on pure adrenaline at that point?
I'd sat and watched the other boys have a crack and like I said before, I was a bit pissed off at that. I wasn't pissed at them, I was just pissed because I wanted to be catching waves (laughs).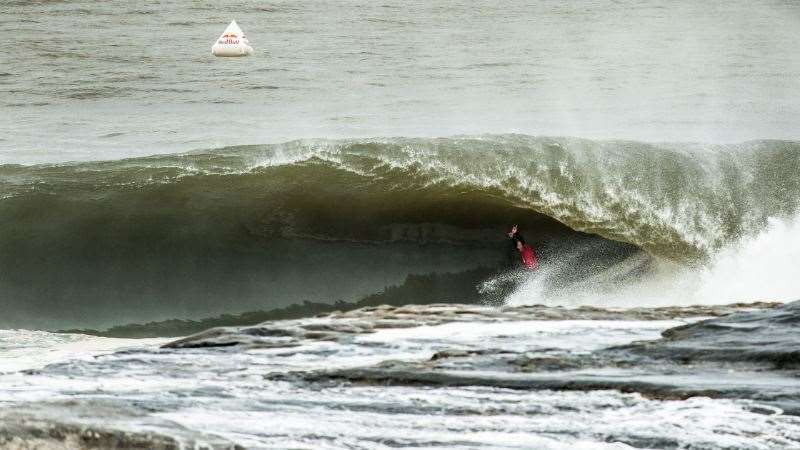 Jug's first wave. Photo: @benbugdenphoto
You ended up catching seven or eight waves over the course of your heat while a lot of your competitors got a lot less. Did any of them ever look worried or hesitant to go?
Not at all. When I saw Rooster Adams get that one crazy one he came out of, he had this awesome look on his head and he just said 'this is so much fun!' Everyone had a smile on their face.
When that one took you down at the end, the wave actually looked like it went slightly wide and exploded around you. Would that be a fair call?
I was pretty confident on that one. I thought it was a wider a-frame and that if I pulled up, I would get a barrel without too much wall. I thought it was going to be an easier one honestly.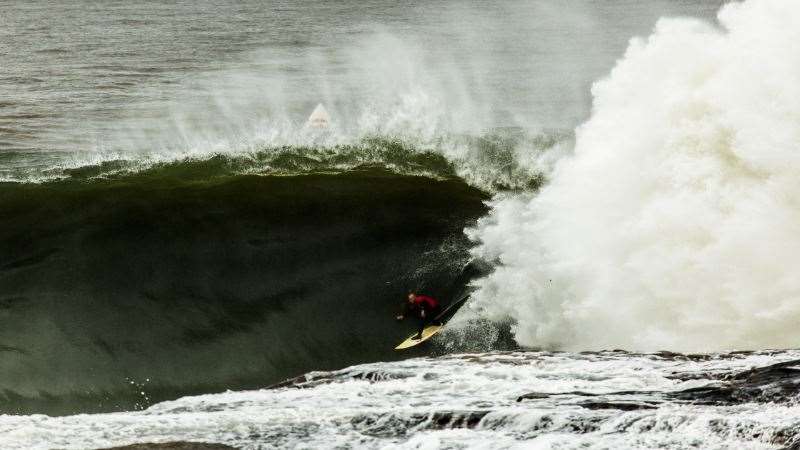 The wave that ended Jug's run. Photo: @benbugdenphoto
What about when it took you down, did you think it would do as much damage as it did?
Nah, I thought it was a bit soft to be honest. I don't really remember it too well, but it felt like I got swept over with the lip then cracked my head and shoulder. When I came up I saw all the skis burning over and I remember thinking, 'shouldn't you go and get Blake because he was on the wave before me?' The Water Patrol dove on top of me and I still couldn't figure out what was going on. I didn't realise it was all to do with me. Hippo was straddling me like he was gonna kiss me (laughs) and Jesse (Pollock) jumped off and went into lifeguard mode to help. Looking back at it now I realise I must've been half knocked out and just exhausted from it all.
Was it almost like having an out of body experience?
It was like a dream. I felt really slow. At one point I looked up to the event site and realized my kids had seen it. I totally had been switched off to that from the beginning of the heat. Reality began to kick in then and I began thinking, 'I hope they're not seeing this.'
Tell us about the boat ride back to the harbour. Was that when the actual pain began to settle in?
Yeah, I originally wanted to climb up the rocks but my shoulder was too sore. I was pissed because I just really wanted to watch Riley and Russ' heat, which was coming up after mine. I don't even know if I realised I had a massive gash in my head. It all sunk in that I wasn't going to be able to watch the rest of the comp.
I spoke to you while you were in the ambulance and the first thing you said to me was 'how are the waves?' Was that all that was going through your head at the time?
I really just wanted to watch it and know Riley would be ok out there. Once I knew that my wife and kids knew I was okay, I began to worry about Riley. I was devoed.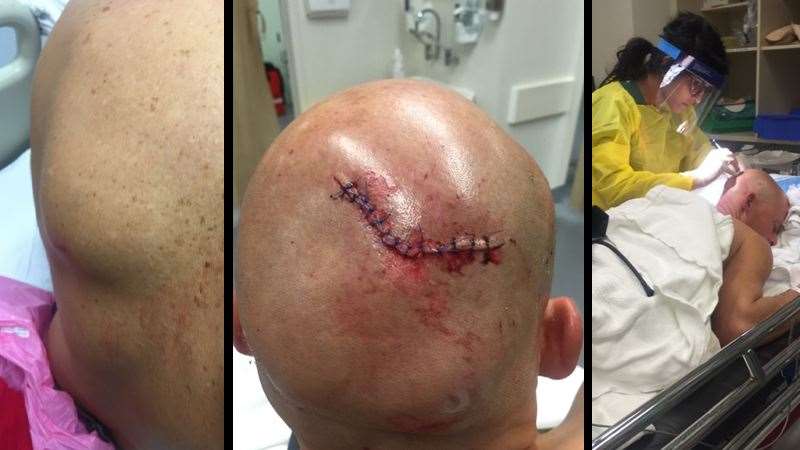 The shoulder haematoma / head wound combo. 
You actually won that heat. From a competitive perspective, was it hard knowing that you wouldn't surf the final?
I didn't actually know I'd won it until the next day. My kids told me that night, but I thought they were just trying to make me feel better. A lady in the hospital actually asked me how I went and I told her I got last. I was devastated I didn't get to surf the next day. On the upside though, I got to watch it all happen from the rocks, which was sick. To watch it with my kids was a pretty awesome feeling.
To see Russ win must've filled you with a fair amount of joy?
If Russ wasn't there that day, you can be sure he'd have been surfing some mental slab close to his house. That's the best thing about him winning, if there were no cameras then he would have still been surfing. It's sick to see. Russ' dad used to take me surfing in Hawaii a lot when I was in my mid-twenties and I actually remember holding Russ when he was about six months old. There was no way to tell he was going to be a surfer or that he was even going to move to Australia. To see him paddle out with Riley made my day. It was surreal.
Now that the events wrapped up, has the adrenaline worn off?
Just talking to you now it's getting my adrenaline pumped again, but I haven't looked at any webpages yet, just Instagram really.
Was it true you all split the prize money as well?
Well yeah. Someone told me that the prize money breakdown was on page three of that document I signed, but because I didn't read the terms and conditions I had no idea about any of it. I guess it would've sucked to surfed it, have a narrow heat and not get anything for it, like in the case of Andrew Mooney's heat. That thing was so tight. When it comes to heats like that it's good to see everyone walk away with something.
So you're walking away from the whole thing in pretty good spirits?
Yeah for sure. Everyone who surfed should have their head held high. I'm just stoked I got the opportunity to be a part of it and that I didn't make a giant dick of myself in front of my kids.
Tracks