Surfing Australia names the most influential surfers in Australian surfing history. What's your take?
Surfing Australia sticks its neck out at its 50th anniversary dinner.
It was a bold initiative by Surfing Australia. At the formal dinner held in honour of the organization's 50th anniversary they had decided to nominate Australia's 10 most influential surfers. In Australia there is more or less a surfing legend in every coastal town and therefore determining exactly who to adorn with the title of "Most Influential" was always going to be challenging and potentially controversial. Certainly they got it right with the wording of the awards. The term "Most Influential" meant that the list would not be based purely on competitive success but would take into account the diverse range of ways an Australian could make a profound impact upon our surf culture. Shaper, short board pioneer and author Bob McTavish came in at number ten in the most influential list, and in his acceptance speech succinctly captured that dichotomy between sport and creativity in surfing. "Sport is measurable. Art is not. There are two kinds of surfing that go on. I actually stand up for the art of surfing."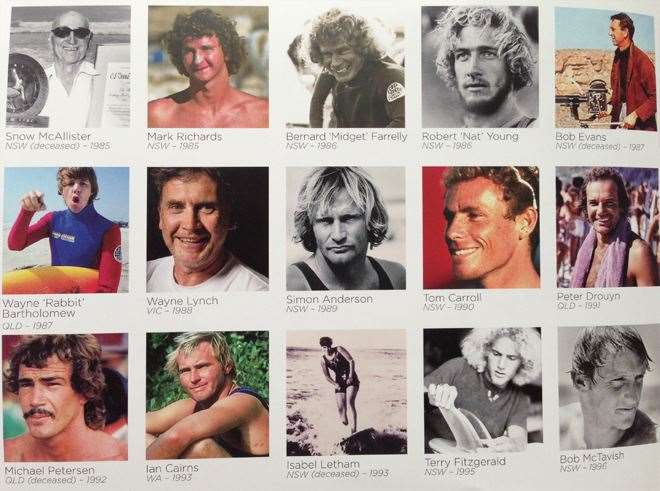 Hall Of Fame Inductees 1985 to 1996
The audience was forced to wait patiently for the announcement of the surfer voted "most influential" as the list was read out in staggered groups of three over the course of the night.
The ceremony was held at Walsh Bay in Sydney before a large crowd, which included numerous members of Australia's surfing royalty, treasurer Wayne Swan and the various surf industry organizations that make up the many tentacles of Australian surfing. Women's surfer of the year and hall of fame inductee, Steph Gilmore, was resplendent in a sparkling green dress, only to be slightly outdone by Westerly Windina [formerly Peter Drouyn] in a body hugging white number.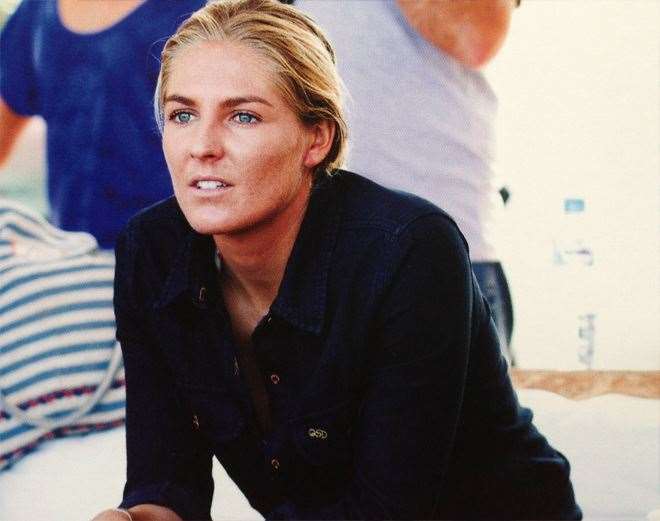 Stephanie Gilmore - Female Surfer of the Year 2013 & Australian Surfing Hall of Fame Inductee
The best speech of the evening went to Simon Anderson who had the crowd in stitches with his famed dried wit. While glancing over in the direction of Nat Young, who was alongside him on the stage, Simon commented. " I grew up in Collaroy and after seeing Nat Young, who was also from Collaroy, make such an impact on the world stage I figured no-one else from Collaroy would ever do anything …. Now I'm up here at number two on the list and Nat's at number three."
As the list wound down it was apparent there was a glaring omission – Mark Richards. There were few who would dispute the laconic Novocastrians position at number one on the poll. In addition to being our most successful male competitive surfer in history, the four-time world champion continues to be a highly influential shaper on a global scale. " Holy Shit! It's been a long time since I won anything," quipped MR at the beginning of his acceptance speech. He went on to suggest that while he feels his surfing is getting progressively worse with time, his shaping is only getting better.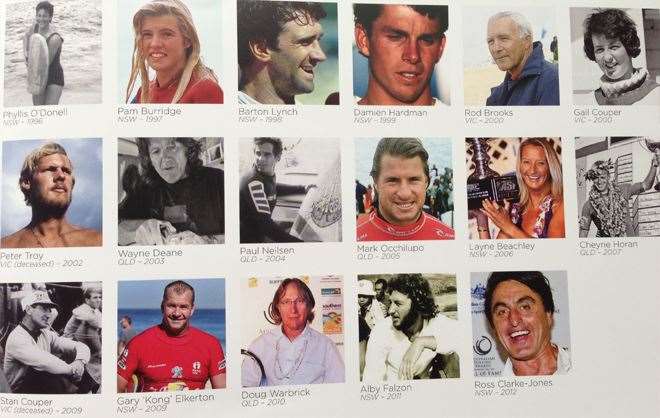 Hall Of Fame Inductees 1996 to 2012
The final list [see below] will no doubt be the source of some debate but if an organization like Surfing Australia is to remain vibrant then it must continue to generate intelligent discussion about Australian surfing culture, in addition to successfully executing structured initiatives, which both reflect and sculpt the Australian surfing landscape. Certainly Surfing Australia's new, Billabong backed, club competition looks like it will maximise the cultural impact that our uniquely Australian boardriders clubs have. And in current CEO, Andrew Stark, Surfing Australia seems to have found someone who can successfully chart a course for an organistaion that must take into consideration the various eclectic elements, which contribute to the identity of Australian surfers.
What's your take?
Surfing Australia's Ten Most Influential Australian Surfers of All Time
10. Bob McTavish
9. Mark Occhilupo
8. Wayne Bartholomew
7. Layne Beachley
6. Tom Carroll
5. Bernard "Midget" Farrelly
4. Michael Peterson
3. Nat Young
2. Simon Anderson
1. Mark Richards
2013 Australian Surfing Award Winners
Australian Surfing Hall of Fame Inductee: Stephanie Gilmore
Australia's Most Influential Surfer 1963-2013: Mark Richards
Male Surfer of the Year: Joel Parkinson
Female Surfer of the Year: Stephanie Gilmore
Rising Star: Jack Freestone
Waterman of the Year: Jamie Mitchell
ASB Surfing Spirit Award: Misfit Aid
Peter Troy Lifestyle Award: Bob Smith
Surf Culture Award: The Reef - by the Australian Chamber Orchestra and Tura New Music
Simon Anderson Club Award: Kirra Surfriders Club
Nikon Surf Movie of the Year: Storm Surfers 3D
Nikon Surf Photo of the Year: Peter 'Joli' Wilson
Tracks