This overlooked town just might become the new Noosa.
Kempsey — twenty minutes and about twenty kilometres from the coast — could be a surfers' paradise. You see, I want to leave Sydney and everything about it behind, and I'm trying to decide where to go. It would be easy to pick from the big names, like Noosa or the Gold Coast, but they're actually not that cheap, so unless you've got rich parents with a holiday-house or a lot of money in the bank, you could still end up struggling to pay the rent.
I don't want to work hard. I've done that for a little while and frankly I'm sick of it. Call me lazy or entitled, anything you want. You're probably right. I couldn't care less.
It's not that I want to sit on Newstart. It is a different lifestyle I'm after — one that does not ebb and flow with the demands of a grumpy boss, or mean I have to do anything I don't want to, or anything involving Instagram.
Don't worry, I know this isn't new, or a particularly interesting ambition. What I really want to discuss are practical ways the average person could, if you were so inclined, make it happen — which is where we come to Kempsey.
For a lot of people — that I know anyway — living in Sydney means working stressful jobs to pay the rent in a beachside suburb (read: pay off a baby-boomer's negatively-geared investment property).
So, to get to the point, let's extoll some of the virtues of Kempsey, where you can buy a (very pre-loved) house with several bedrooms for around $150,000. That's a cottage with a block of land for roughly a third of what it would cost you to live in a damp little shit-box anywhere near waves in Sydney.
It's about 20 kilometres from Crescent Head, a particularly pleasant point-break that I love maybe more than any other wave on the East Coast. It's not hollow or heavy, but this never matters. It's the wave equivalent of a hug from a dear friend when you're sad.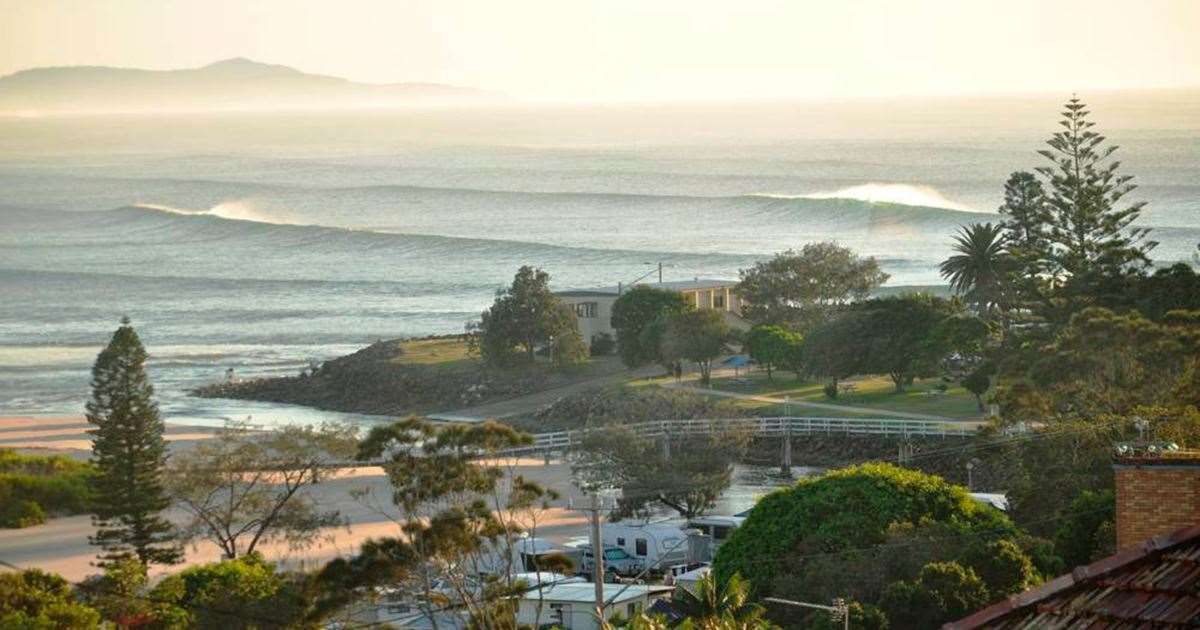 The Crescent Head rollers could help you find contentment if you make Kempsey your new home.
If you were in the suburbs of Sydney — which sprawl so far it's a testament to delusion they're even classed as a single entity — 20 kilometres would be a long way in traffic. But from Kempsey it's one long cannonball stretch to fly down, and you could eat up the distance in all of fifteen minutes if you needed to rush.
Property is so affordable, that if you wanted to get a half-decent job and dedicate the next, say, five years, you could put away enough to buy a house with cash. Obviously this depends on what you do and how well you do it, but a lot of people spend this long saving for a small deposit on an apartment in more exclusive areas anyway, and then they're saddled with a mortgage for the next thirty years. Besides, it'll be easier to put up with the brief working purgatory knowing that you'll soon be off to paradise.
Once you've got the house, all you need is a modest income to pay your ongoing living expenses, like insurance, council rates, bills — that sort of thing. Most importantly you'll need to maintain a car. Freelance from home, or, I don't know, sell firewood to all the campers who pass through on their way to Crescent.
If you've been to Kempsey you'll know it's certainly not to everyone's tastes. Some areas are rough on the eye, and rough of character. But, this is exactly why you could afford to surf every day for as long as you wanted to, between doing some odd jobs to maintain the very modest income you'll need.
Start a vegetable garden or get chickens. Do the whole garage-shaper thing. You could, because you'd actually own some land — as opposed to an undersized floating box. I'd recommend doing all these things during school holidays, when the point turns into a squawking gaggle-soup of grommets who stay in the adjacent caravan park.
Not to mention some of the other benefits. I highly doubt the police in Kempsey are patrolling the streets actively looking for people riding a bike without a helmet, or crossing the road in the wrong place. I think they have other things to worry about...
Essentially though, the point is this: There's only so much room on the east coast of Australia. For some of us, living the surfing lifestyle until we keel over will probably mean exploring some less glamorous options (Hello Kempsey!) and thinking outside the box, because the beachside shacks and plots of land our parents and grandparents picked up for a song back in the day are all taken now, and a lot are worth more than you'll make in a lifetime.
If you can swallow the idea of living ever-so-slightly inland and — this is essential — don't need to work nine-to-five, there's several options, like the Hunter Valley, Geelong or, hell, even the Blue Mountains, if you really like driving.
Tracks