"It's the Dream Tour if you're finishing at the top." Philippa Anderson chats about what it takes to make the WCT.
Craig isn't the only Anderson family member who rides waves. Younger sister Philippa Anderson won Surfest in Newcastle when she was just 17. In 2012 she scored two wildcard entries into World Championship Tour events and outside of the already qualified WCT surfers, tied for second place on the World Qualifying Series. To put that in perspective, her two best results were a semi-final loss to Bianca Buitendag at the Azores Pro and placing third behind eventual winner Nikki Van Dijk at the World Junior Titles in Bali.
For six years she was sponsored by Quiksilver's sister brand, Roxy, but under unfortunate circumstances lost that sponsorship in 2013. She's not the only girl having to rely on family for support to travel the world. Philippa's friend Dimity Stoyle is one of this year's WCT rookies and she still doesn't have a major sponsor!
I caught up with Philippa via the ever-expanding World Wide Web, to chat about being an Anderson and what it takes to compete for those WQS points.
Q. This year the ASP is pumping more money into more women's events. You've been competing on the WQS for three years now, are you seeing changes in the quality or location of waves this year? 
Yes I've been competing on the WQS for the last three years now, and it's definitely going in a better direction. All the women who compete on the WCT and WQS are very thankful for ASP stepping up and changing surfing for the women.
Although on the WQS we still do surf some pretty average waves, which means it often comes down to luck. This year there are more events in New Zealand, Mexico and even Canada! But unfortunately that fell through [Canada].
At the end of the day, I'm very thankful ASP has started to recognize that Professional Women's Surfing needs to get the best surf locations and suitable prize money on the WCT.
Q. You came close to qualifying for the WCT at the end of 2012. Can you give us a brief rundown of the journey a dedicated surfer has to make to advance from the 'QS to the 'CT? 
2012 was a strange year for me. I travelled to the majority of the events without my parents until the last Europe leg where I didn't know I had to make just one more heat to qualify. I got my best result, a 3rd, in the Azores Pro, which was the final event of the year.
Looking back at that year my goal was to just get a good result and I ended up missing out on the WCT by 2 spots. After that, I put a lot of pressure on myself to qualify in 2013, but I ended up missing out by 5 spots.
This year the pressure of qualifying has gotten to me; I've had a horrible start to the year! I'm still aspiring to be a professional surfer, I'm going to give it another shot next year and I guess just hope for the best.
Q. Sorry to hear that your relationship with Roxy ended last year. How did you feel when they broke the news and what's inspiring you to continue with your campaign? 
Being a part of Roxy for the last 6 years was amazing; they really were so good to me. Hearing the news of no longer being in the Roxy family was a big kick in the face. It just felt like I wasn't good enough. But at the same time, it made me hungrier.
I train a bit at home [in Newcastle, NSW] but the loss of my Roxy sponsorship has made me take things a bit more seriously. Whether it's to prove to Roxy that they made a mistake or because I know I need the prize money, or just to prove to myself I can do it. My results so far this year haven't really replicated that, but I'll keep trying.
Q. One of your good friends Dimity Stoyle (AUS) is a rookie on this year's tour, and she's doing really well! But it eludes me; she still doesn't have a major sponsor? 
Yeah, there are a few girls on the WCT that don't have major sponsors, I honestly don't understand. These are the top 17 women surfers in the world and some of them have to have a part time job in between events or rely on their own money or parent's money. I just think it's strange that with so much sponsorship given towards other sports and their growth within Australia, Dimity has no backup!
Q. It's called the Dream Tour, but in reality, how hard is it to persist with surfing as a career without substantial financial support?    
It is the Dream Tour if you're finishing at the top. It's hard without financial support due to the fact it's an expensive sport. We have to travel around the world to events and on top of the airfares there's car hire, accommodation and food.
Q. You've mentioned before that surfing used to be based just on talent and ability, but now it encompasses the entire range of diet, specialised nutrition and surf specific training. You're pretty well known at Surfing Australia's High Performance Centre – what's your exercise regime there? 
I definitely think that, but it's not just in surfing. All sports are getting more intense; they're not just based on natural talent anymore. I've been so lucky to be a part of the HPC for the last three years and their support towards the athletes is amazing. We get to train with Jeremy Shepherd in the gym and Andy King in the water. We focus a lot on strength in the gym and our contest/air game in the water.
Q. Surfing is obviously in your blood! Your brother is Quiksilver freesurfer Craig Anderson. What was it like growing up in a surfing family on the coasts of South Africa and Australia?
I look back at my childhood and think I was so blessed. We grew up in South Africa, where we lived right across from the beach and down the road from J-bay. My family was always at the beach, or involved with anything to do with the water and sports. Later my parents gave us the opportunity to move to Australia for a better future and I can't thank them enough!
My brother got picked up by Quiksilver South Africa at a young age and he was so good to me, always letting me surf with him and the boys and lending me his cool Quiky clothes and wetsuits [laughs]. When we moved to Australia I started to surf a lot more as more girls surfed. When Craig's career took off he was hardly ever home, but as the years have gone by whenever he can lend a hand, advise me on my air game or give me tips, he does.
Q. With you and your brother both traveling for extensive periods, when do you have time to catch up and surf? 
Craig's hardly ever home anymore. Since he moved out a year ago, and with my busy schedule, sometimes we'd go months with out seeing each other. But then I will get little Viber messages to say good luck, or, "Let's surf tomorrow I'm home." We do clash sometimes just because we have totally different personalities or he'll take my sister's side and not mine [haha]. At the end of the day it's so amazing we both get to share the love of surfing and travel the world.
Q. There are a lot of events this year that merge the men and women in the same waiting period. What's the relationship like between the sexes during a competition? Is it one big family or do people tend to keep to themselves? 
Ah I don't know, personally I don't like having a contest with the men. If we're trying to free surf before the contest with a lot of the male surfers, they don't give us women the time of day. I enjoy sticking with my little crew of the Aussie girls.
Q. And what about between all the girls? A lot of the girls already on the WCT also surf in the 'QS events, whether it's their sponsor's event or they're hunting for more points. You all look like best friends from your Instagram feeds…
We all have our group that we hang out or travel with, but it's definitely friendly outside the water between the girls, until the contest vest is on.
Q. Who are you traveling/spending a lot of time with this year? 
Due to my loss of Roxy sponsorship, my money is a bit tight. I did NZ [WQS in Taranaki] without my mum. I've been hanging at home with my friends who I never really see, training with my personal trainer, Steve in Newcastle LifeStyle Fitness, working on my technique with Paul Parkes my shaper, and I've been stretching it up at the Yoga Loft. It's been a rough start to the year contest wise but I'm having fun, so that's all that matters.
Q. And lastly, what's your approach to the rest of 2014? 
I'm off to Mexico in a month and sharing accommodation with a few Aussie girls. Depending on that result, I'll see what the rest of 2014 holds…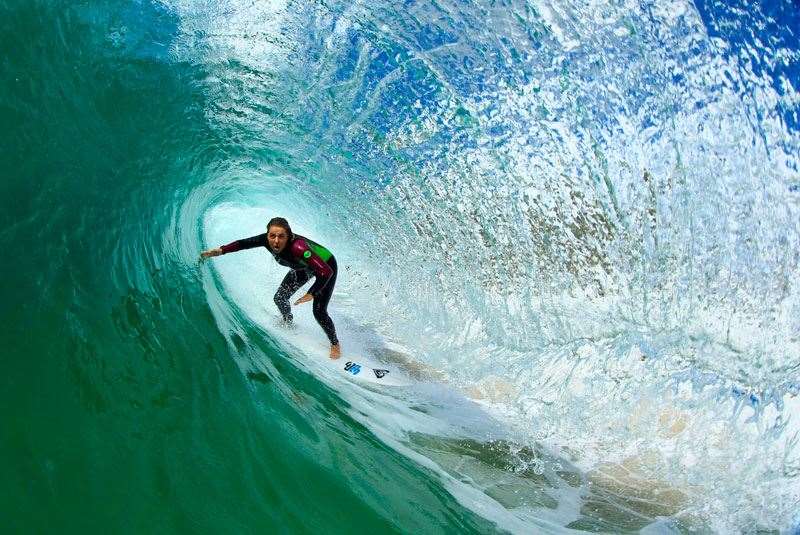 Philippa, like brother Craig, knows how to stuff herself inside the green room. Photo: Bosko
Tracks