The world's best surfers battled shifting four-to-six foot (2 metre) rights and lefts at Supertubos as the Rip Curl Pro Portugal.
| | |
| --- | --- |
| | The world's best surfers battled shifting four-to-six foot (2 metre) rights and lefts at Supertubos as the Rip Curl Pro Portugal... |
SUPERTUBOS, Peniche/Portugal (Sunday, October 10, 2010) – The world's best surfers battled shifting four-to-six foot (2 metre) rights and lefts at Supertubos as the Rip Curl Pro Portugal commenced competition with the opening nine heats of Round 1.
Event No. 8 of 10 on the 2010 ASP World Tour, the Rip Curl Pro Portugal got underway this afternoon in front of capacity crowds numbering over 40,000 on the beach and the hundreds of thousands online.
Dusty Payne (HAW), 21, 2010 ASP World Tour rookie and current ASP World No. 27, punctuated the day's action, posting the highest heat total of the event, a 16.57 out of a possible 20, in the final heat of the day.
"It's definitely not a walk in the park out there," Payne said. "It's hard work out there. I got both of my good scores on my backhand, I think it was easier to jam in two turns on my backhand. Stoked to get through though. I'm loving Portugal. The people are really nice and I hope it cleans up tomorrow."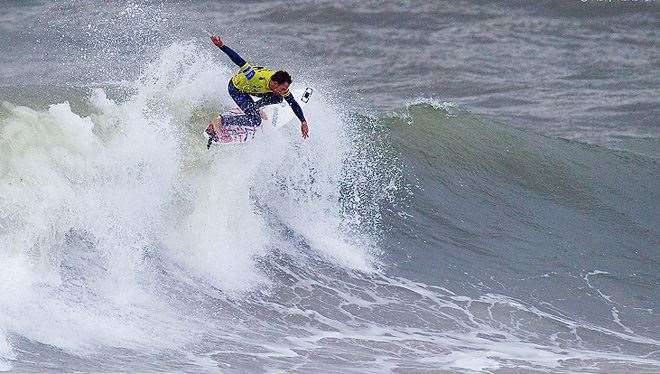 T Whit's went big pushed hard and was rewarded the win over Kelly Slater.
Tom Whitaker (AUS), 31, posted the highest single-wave score of the day, a 9.50 out of a possible 10, for two monstrous backhand bashes on a lumpy lefthander. The score, combined with an earlier 5.17, was enough to relegate former nine-time ASP World Champion and current ASP World No. 1, Kelly Slater (USA), 38, and Bruno Santos (BRA), 27, to Round 2 of competition.
"Any kind of lip you could see you had to hit it," Whitaker said. "That one had a pretty good line on it and I was lucky that it pushed me out in front at the end. Any time you draw Kelly (Slater), you have to put up big numbers and he's capable of getting 7s or 8s at any moment in any conditions."
Kelly Slater looked confident but didn't over-exert himself.
Currently serving as the replacement surfer for an injured Joel Parkinson (AUS), 29, Whitaker's motivation may differ from those hunting the ASP World Title, but the stylish natural-footer remains hungry for results amongst the world's elite.
"I want to win an event before I hang up my competitive career," Whitaker said. "I feel like my surfing is still at this level and I'm looking forward to a few more opportunities here. I have to give a shout out to Joel Parkinson, who I heard had his first surf the other day. I hope he rebounds quickly and I look forward to sharing some waves with him in Hawaii."
Mick Fanning (AUS), 29, reigning ASP World Champion and defending Rip Curl Pro Portugal Champion, survived today's trying conditions, favoring his backhand to advance directly through to Round 3.
"It's a big washing machine," Fanning said. "I don't think it matters what you ride out there, you just have to hang on. The Portuguese people turn out in the numbers and they're really cool. They're just stoked on surfing and that's what we're excited about."
Following a win at the last event in France, Fanning is currently ranked No. 3 on the ASP World Title Race rankings, well within striking distance of the leader position in the hunt for the 2010 crown.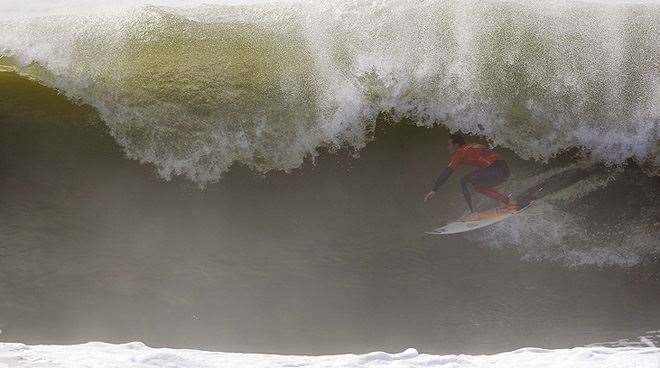 Current world number two Jordy Smith another highly ranked first round loser.
"Kelly (Slater0 has been on such a roll," Fanning said. "I pretty much just need to win events and that's what I'm trying to do. I'm not concerned with what he's doing at the moment. I'm focusing on putting wins on my scorecard."
Jeremy Flores (FRA), 22, current ASP World No. 20, lead the Round 1 European charge today at Supertubos, threading a challenging barrel in the dying moments of the heat to edge out Dane Reynolds (USA), 25, and Dean Morrison (AUS), 29.
"It's very difficult out there this morning," Flores said. "It's similar to Round 1 in France last week. It's big and unorganized and hard to line up. I was able to find a tricky little barrel there at the end so I'm stoked. It's hard though."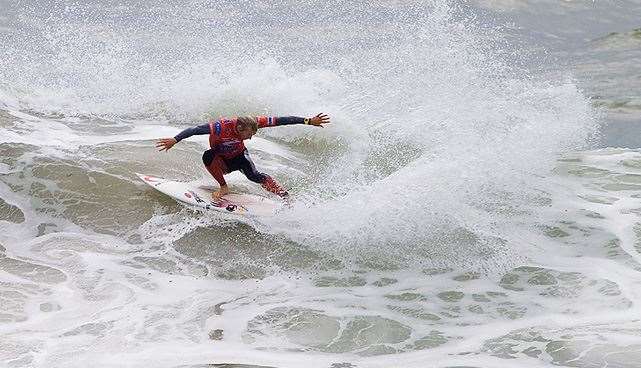 His years has had it's ups and downs but we're are getting closer to seeing Owen Wright at his best in 2010.
Matt Wilkinson (AUS), 22, 2010 ASP World Tour rookie and current ASP World No. 27, scored a major upset today, relegating Portuguese superstar Tiago Pires (PRT), 30, and compatriot Adrian Buchan (AUS), 28, to Round 2 with some inspired backhand surfing.
"It was a super tough heat," Wilkinson said. "Having Tiago in a heat over here was always going to be tough. There are tens of thousands of people cheering for him as we're running down to the water and I just felt a little bit obscure. I love the crowd here though. They're a super passionate crew and they want to see their local boy do well."
When competition resumes, up first will be Damien Hobgood (USA), 31, Fredrick Patacchia (HAW), 28, and Luke Stedman (AUS), 34, in Heat 10 of Round 1.
Event organizers will reconvene tomorrow morning at 8am to assess conditions at Supertubos for a possible 8:30am start.
Highlights from the Rip Curl Pro Portugal will be webcast LIVE via http://live.ripcurl.com
For more information, log onto www.aspworldtour.com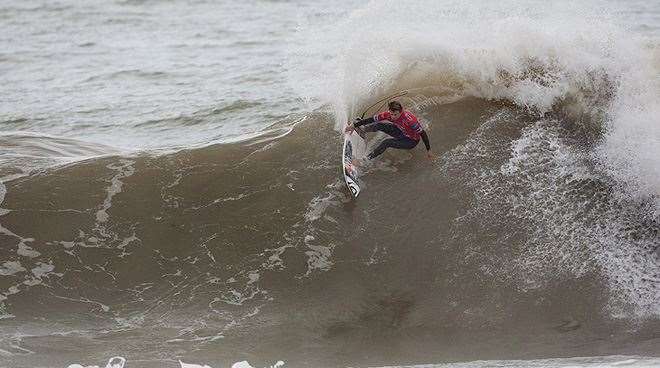 Despite a few quality moments like this high line hack, Dane Reynolds too went down.
RIP CURL PRO PORTUGAL MEN'S ROUND 1 RESULTS:
Heat 1: Taylor Knox (USA) 9.60, Luke Munro (AUS) 7.43, Adriano de Souza (BRA) 4.23
Heat 2: Jeremy Flores (FRA) 9.10, Dane Reynolds (USA) 8.00, Dean Morrison (AUS) 5.50
Heat 3: Taj Burrow (AUS) 10.17, Travis Logie (ZAF) 4.33, Brett Simpson (USA) 3.73
Heat 4: Gabe Kling (USA) 14.94, Jordy Smith (ZAF) 11.07, Adam Melling (AUS) 6.70
Heat 5: Mick Fanning (AUS) 12.67, Marlon Lipke (DEU) 12.10, Daniel Ross (AUS) 8.73
Heat 6: Tom Whitaker (AUS) 14.67, Kelly Slater (USA)13.10, Bruno Santos (BRA) 3.03
Heat 7: Matt Wilkinson (AUS) 12.66, Tiago Pires (PRT) 10.00, Adrian Buchan (AUS) 8.30
Heat 8: Owen Wright (AUS) 12.40, Roy Powers (HAW) 6.14, Chris Davidson (AUS) 5.26
Heat 9: Dusty Payne (HAW) 16.57, C.J. Hobgood (USA) 11.20, Kieren Perrow (AUS) 8.57
RIP CURL PRO PORTUGAL MEN'S REMAINING ROUND 1 MATCH-UPS:
Heat 10: Damien Hobgood (USA), Fredrick Patacchia (HAW), Luke Stedman (AUS)
Heat 11: Michel Bourez (PYF), Bobby Martinez (USA), Kai Otton (AUS)
Heat 12: Andy Irons (HAW), Jadson Andre (BRA), Patrick Gudauskas (USA)
Tracks