Being a pro surfer shouldn't mean skipping class.
For young surfers who dream of making a career out of riding waves, education can often take a back seat. There is pressure from sponsors, peers and often parents to be a certified surf star before you even finish school. In such a setting it's easy to lose perspective on what creates a well-rounded individual. Desperate to ensure little Johnny or Jenny is maximising their surf time in the lead up to the next event, many parents opt for home-schooling; convinced that they can oversee an education program that will provide an adequate foundation for their prodigies to tackle the volatilities of the world tour. But what happens if you get spat out the other end? Dropped by your sponsors after a few bad results only to find you are under-educated and lacking a career alternative? Conversely there is nothing to suggest that a school-based educational path detracts from your performance as a professional surfer. Damian Hardman, Ace Buchan and Mick Lowe are all examples of surfers who did exceptionally well at school (All scored well beyond the 90 mark in their HSC) and then went on to enjoy great success on the world tour.
Geoff Latimer dabbled in competition as a junior but ultimately elected to become a teacher. When he secured a job at Illawarra Sports High School (a selective high school for elite junior sports people) on the New South Wales south coast, he realised that there wasn't a school-based program, which catered to talented young surfers.
"We had plenty of good surfers in the region but nothing in place to support them," suggests Geoff, who had observed the academic programs tailored for kids pursuing careers in other sports like Rugby League and athletics.
"It seemed like so many young surfers intent on chasing the tour or a freesurfing career had no back up plan or Plan B," suggests Geoff. With the endorsement of his school, four years ago Geoff created the Talented Surfer Program, which enabled young surfers to work towards a trade or university degree while also pursuing their saltwater ambitions.
The fourteen surfers in the program undertake elite coaching with professional surfer and coach, Nic Squires, while also getting advice from sports science experts on the type of training that will help them maximise their performance.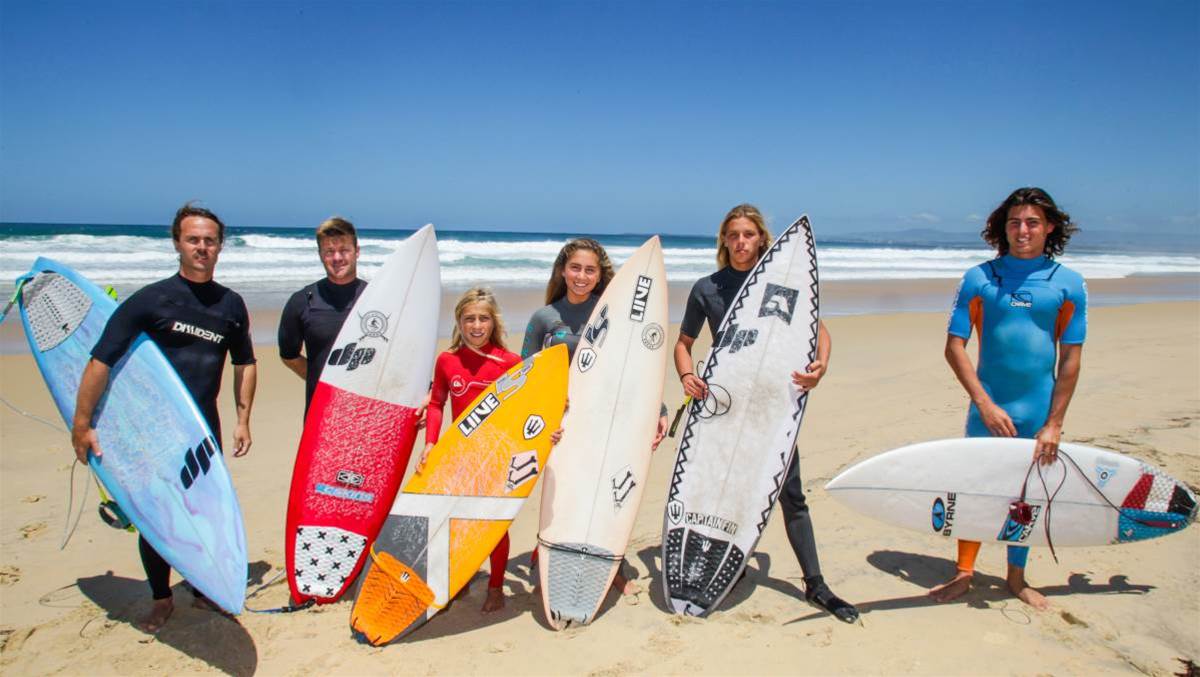 Geoff Latimer (far left) and Nic Squires (second from left) with students from Illawarra Sports High.
However, as Geoff Latimer recently told the Wollongong Mercury, the program will always be underpinned by educational objectives.
"The number one goal for this program is and always will be pushing student athletes to achieve their academic potential."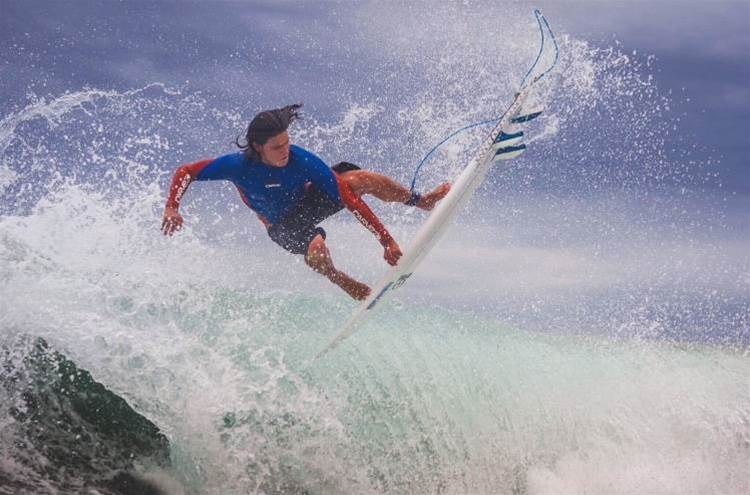 Thanks to the Illawarra Sports High program, Kyen Stuart had the opportunity to launch his surfing career while studying a TAFE course in construction.
Darcy DeClouett and Kyen Stuart, recently became the first two graduates of the Talented Surfer Program at Illawarra Sports High School. (Other similar programs are in place at Narrabeen Sports High school and Matraville High in Sydney and Palm Beach Currumbin Sate High on the Gold Coast). Thanks to the program Kyen, originally from Thirroul, was able to undertake a TAFE course in construction management while still competing in surfing events and attending school. The completed study means he's already a year into a trade qualification as he assesses whether to have a shot at the WQS or pursue a freesurfing path and further his education.
Meanwhile DeClouett, a talented freesurfer who competes for the Scarbourough club, was the first student to participate in a pilot program which recognises surfboard shaping as a trade. While logging footage and chasing the freesurfing dream he also has the option to move directly into his second year as a shaping apprentice with south coast board maker, Dylan Perese.
"This is a labour of love for me. I love surfing but I also love working on a board from start to finish," DeClouett recently told the Illawarra Mercury.
Darcy, eyeing the rocker on a DP shape.
Latimer stresses that the flexible program is all about developing educational pathways that suit the particular individual. He indicates that some students enrolled in the program are currently following a more classically academic route, with a view towards qualifying for a place at university as a back up plan. He also points out that further education can be an asset to the surfers if they do make it; particularly when it comes to thinking critically about choices, courting sponsors and speaking confidently in front of a camera or crowd.
Enigma - Darcy De Clouett from Hayden Griffith on Vimeo.
With consultants like Mick Lowe and Sally Fitzgibbons on board Latimer is intent on refining his Talented Surfers Program and ensuring gifted surfers from the Illawarra region reach their academic and surfing potential. "We want to build not just good surfers, but good humans," he stresses.
Australian surf fans love to see our surfers to do well on the world stage, however by the same token pro surfing has an incredibly high attrition rate – many dream but few conquer. A better education helps ensure kids don't wind up directionless and with limited alternatives if the pro-surfing plan doesn't pay off. In a country where the vast majority of the population clings to the coastal fringes it makes sense to have more surfing programs in schools like the one at Illawarra Sports High. Young surfers deserve as much support as their peers in other sports. 
Tracks