The futility of revenge is revealed to our soul-searching journeyman
Following the Ayahuasca retreat, my original plan involved a possible trip to the Galapagos Islands. Unfortunately, the surf forecast isn't looking promising, and the wildlife cruises are out of my price range. The backup plan is to head straight to Montanita, a surf and party town with a somewhat dubious reputation.
After enduring almost eight hours of bus rides, I arrive at my hostel in the late afternoon. I'd built quite a thirst, so I'm straight over to the bar to get myself a cerveza, then I get chatting to a few people from the hostel. One Aussie lad is nursing a large bottle of rum, and after some conversation I discover he paid only six dollars for it. I stop for a second and reflect that I only paid about two dollars for my long neck of cerveza. Trouble looms on the horizon.
I know there's a small swell arriving tomorrow, so I have a reasonably early night. The beach is deserted as I walk along the cool sand at dawn. I'm the first one in the water, and I find a few nice steep drops before other surfers show up and ruin the quiet solitude. The wind comes up during the day, but there are still surfable peaks out front. I go for another paddle in the afternoon. As I'm making my way back, I bump into some English lads handing out flyers. There's a party on tonight at a nearby hostel, and everyone's invited.
Evening is falling as I walk down a dusty street on my way to the party. My head is in a really good place coming out of the Ayahuasca retreat, and it feels like I have made some progress dealing with the mess in my personal life. As I'm about to walk inside, I stop for a second and remind myself that I don't need to get completely trashed to have a good time. If I can stay focused on surfing and keep the partying to a minimum, I should be able to keep this positive mindset going.
Unfortunately, the party has a five-dollar all you can drink deal. Things become messy within an hour, and I've soon tracked down the resident coke dealer. The drinking continues well into the evening. The rest of the night is a blur of bars, nightclubs, and loud thumping music.
I wake the next morning fully clothed and suffering an all-consuming hangover. I'm just thankful that I made it back to my bed, but there are some uncomfortable memories of drunken dance floor romance swirling around in my mind. I stumble out into the hostel kitchen and come face to face with a girl from the previous evening's trashy bender. Anxious recollections rise through the boozy haze, and I have a sneaking suspicion that she may have been involved. She glances over but chooses not to say hello. Instead, I get a large helping of awkwardness with my breakfast.
Over the next few days, I come to know a quietly spoken but equally lovely Swedish girl who works at the hostel. It is obvious from the moment I meet her, that making any headway will require a soft approach. So I make sure engaging in some light-hearted conversation is part of every passing day.
Wednesday night arrives, and I am reasonably confident the necessary groundwork has been laid. There's a good crowd drinking at the hostel after dinner, and I chat with my Swedish friend while small fireflies buzz around us in the warm evening air. Once we make it to the bar, I am still the perfect gentleman; purchasing drinks and making sure I'm available for required jaunts on the dance floor.
We spend a few pleasant hours together. Hugs and kisses are exchanged, but Nordic sensibilities remain intact. As the evening draws to a close everything is going according to plan; we're holding hands, and I'm feeling pretty damned pleased with myself. Enter stage right – snivelling jealous previous male suitor. He takes one look at our happiness and decides it needs to be destroyed. So he starts doing what he can to make sure I am cut out of any further romantic considerations. I look on in annoyance. The man has a nose like a beak… how can he think he's in with a chance?
At first, I'm not overly concerned, but by the time he follows us back to our hostel, I can feel some grumpiness starting to set in. The beak-nosed spoiler does his level best to cajole and separate the object of my affections from the group. I only just manage to keep my annoyance in check. I remind myself that my previous exemplary conduct should win her over, and all I need to do is just be patient. Unfortunately, liquor and cocaine is a mistress that is all too short on patience. I try to chill out, but I realise I'm about one step from dragging him down to the beach and drowning the fucker.
She disappears for a bathroom break. So I take the opportunity to quietly suggest that the beak-nosed spoiler remove himself from the premises. My language is coarse, offensive and uniquely Australian. His reaction is fairly predictable. He pretends to leave then goes running to the Swedish girl to protest my aggressive statements. It's all the leverage he needs. She throws me a few disappointed looks, and I wander off to bed frustrated and alone, but absolutely certain that he is going to pay. One way or another.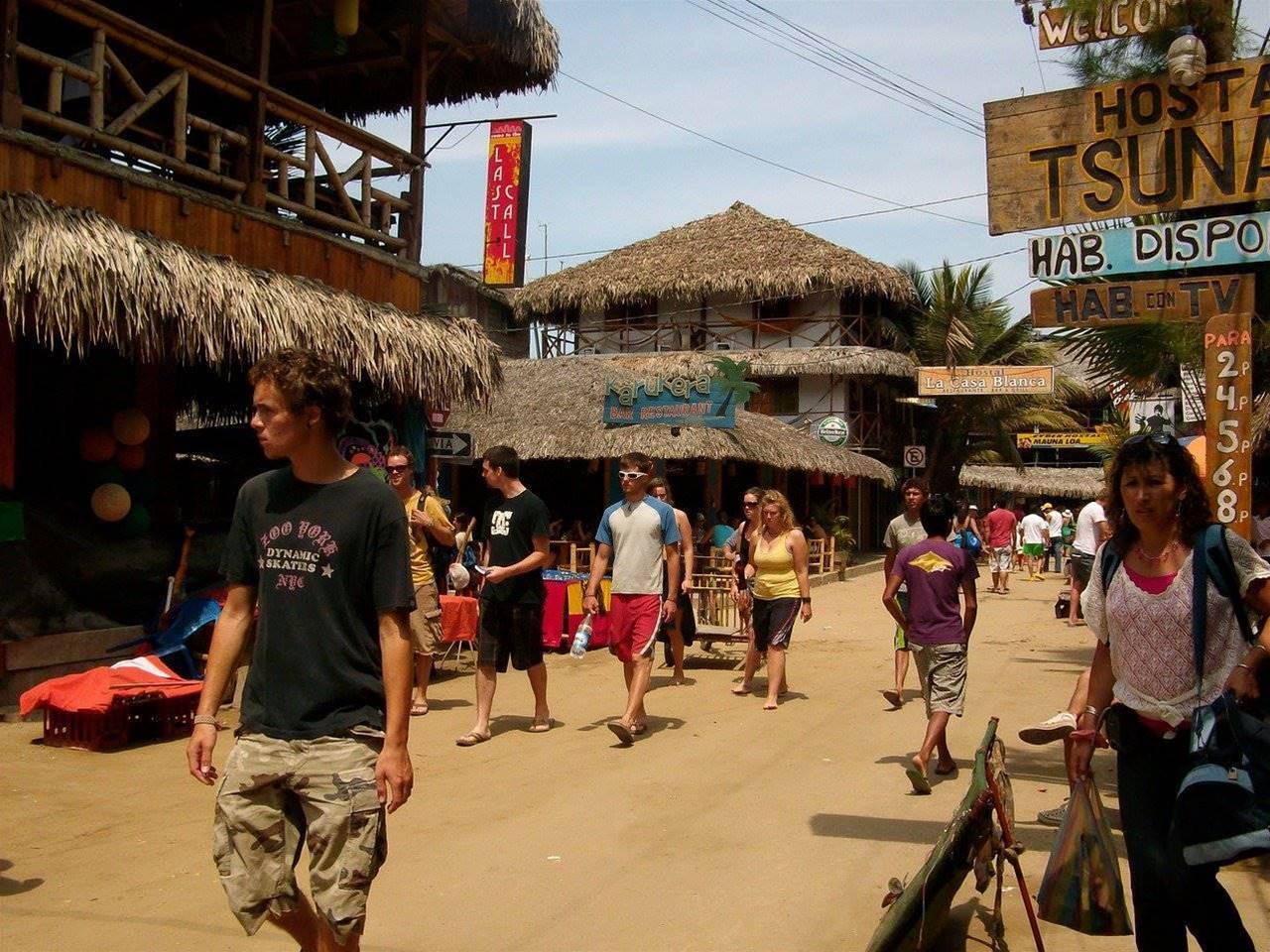 A cruisey street scene in Montanita
I wake to a very special hangover. It's one of those numbers that arrive simultaneously with embarrassment and the knowledge that you have behaved like a complete tool. I catch up with the Swedish girl after breakfast and apologise for my behaviour. I make earnest assurances that it will never happen again, and she makes it clear that they are just friends. I nod, then force a smile and walk away.
I give the situation some thought a bit later on. That slippery bastard clearly likes her, and he is playing the friend card to block everyone else from approaching. That's selfish behaviour in my book. The beak-nosed spoiler deserves a drowning, even if he doesn't get one.
The weekend arrives, and the merry hostel patrons are once again primed for a night out in Montanita. We finally have a couple of surfers staying at the hostel. I've spent an enjoyable few hours trading surf stories, and things are looking rosy. Then the beak-nosed spoiler decides to show his face. This is probably my chance to be the bigger man. To forget about past unpleasantness and just enjoy the night.
Unfortunately, I'm already drunk and still pretty fucking annoyed by his self-centred antics. I'm also aware that my chances with the beautiful Swedish lass are now in tatters. This is upsetting, but I now have absolutely nothing to lose. Yes, it may have been both immature and childish... one of my friends is laughing while he points this out, but I'm determined to exact some form of retribution.
When we get to the clubs, I watch the beak-nosed spoiler like a hawk. The minute he garners the attention of someone from the opposite sex – I'm there in a flash to screw it up for him. By about halfway through the evening, I can feel I am wearing him down. He eventually strides up and offers his hand to settle the dispute. Our reconciliation begins to look shaky when I request that he buys me a single cerveza as a token gesture. When he turns his back and walks away, I know the conflict has gone to the next level. I stop at this point and admit to myself that the situation has reached the point of utter stupidity, but it's too late to turn back now. I've had quite a bit to drink, and I'm angry, and there's ego involved god damn it.
The universe brings it all to a head when we bump into each other in a deserted street about an hour later. A short and scrappy grappling match takes place; the exact kind of physical altercation that occurs when neither participant has the nerve to throw the first punch. The whole thing is pathetic. The evening has descended into farce. Yes, I have ruined his night, but I've ruined my own night and scraped to his level in the process. It's a hollow victory, and I feel even worse about it the following morning. Booze and coke-fuelled self-righteous indignation is truly ugly in the morning light.
I decide that Montanita is not bringing out my best. I've also upset a few people at the hostel with my poor behaviour. It feels like my progress from the Ayahuasca retreat has been rinsed away by a cocaine laced mix of rum and cerveza. I decide to head just up the coast, to a quiet beach town called Ayampe. The beginnings of a new swell start to show. As the days pass, I surf and catch up on sleep. There are occasional moments of difficult self-reflection. I'm disappointed in myself, but somehow it all feels inevitable.
Another swell arrives. Unfortunately, persistent and incredibly frustrating onshore winds blow in every morning. The waves quickly become messy, and it's clear that the surfing side of the Ecuador adventure is not working out. I have spoken to enough people to know that this part of the coast can get great waves, but the conditions just aren't coming together. I've decided to give it another week, but if things don't improve it might be time to put the surfboards in storage and go travelling in Colombia.
-------------------------------------
The writing above is an excerpt from a recently published book…
Eyes To The Horizon
One man's psychedelic journey into dating apps and perfect waves on foreign shores
Written by Ben Simon Smith
Available on Amazon, Apple Books, Google Play and with other good eBook retailers
Tracks