No sharks invited.
J-Bay is classic Dream Tour. When you think of the place, do you think of six-foot lines unravelling in front of those iconic aloe plants, of local smooth operator Shaun Holmes disrupting Andy Irons' title campaign, of Occy's backhand and Curren's forehand and Parko taking down the world's best at eighteen? Or do you think of that clear bright finals day last year when Mick Fanning wrestled a Great White and surfing suddenly became very big news? Because that's part of it, for sure. But it ain't all of it. And hopefully, after this year's event goes down with increased precautions and the media have finished milking any shark angle they can get out of the famed right-hander, it'll slowly fade into the annals of the place, not forgotten, but remembered rather as one part of what makes Jeffreys Bay so special—the day a sporting legend didn't get eaten by a man-eater. How amazing is that? It's incredible. Just like the waves and the surfing that's been going down there for years.
Now, some stats: 
Jeffreys is a lot like Bells was up until Matty Wilko said 'Screw the stats' and went about becoming the first goofy-footer to ring the awkward-looking trophy since Occy back in '98. But J-Bay's more extreme. The last time a goofy won here was in the 80s, before most of the current crop of competitors were even born, and in the last fifteen years, only two surfers have managed to win J-Bay without a title to their name and they were Jordy and Taj. So there's a lot of history there, and it sits pretty firmly on the side of guys like Mick and Joel and Kelly, who've all had multiple wins on the classic right-hander. But 2016 hasn't really paid much attention to the stats, and at this year's J-Bay Open there's every chance history could be done away with rather than repeated.
The picks:
The Contender: Matt Wilkinson
Wilko's backhand is his money-maker, and theoretically, the fast, reeling walls of J-Bay suit him even more than Snapper and Bells—and he's already won those two. There's just something about the way the waves at Jeffery's seem to build momentum as they move down the point that fits perfectly with his wild, let-it-all-hang-out approach. He's done well here in the past, reaching the semis in 2014, and unless John John can really turn things on, he's probably the best chance out of the current top 4 of making the podium.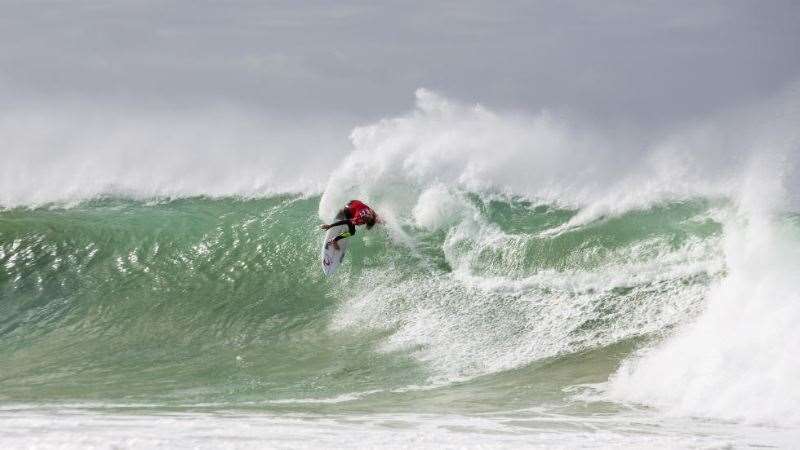 Reckon Wilko is amped to flex his backhand attack on the J-Bay Walls? Photo: WSL/Kirsten
The Veteran: Mick Fanning
Both Mick and Joel are considered modern day masters of J-Bay, and for good reason. They've got five wins here between them and there's no other wave on tour that accentuates the style and flow they're known for quite like Jeffreys. But Mick's the one with all eyes on him this year, the one with something to prove, and if there's anyone who can make the most of those high pressure situations, it's the 3x world champ. He's built a career out of it. He's also looking to qualify for next year's tour without having to do any more stops, and considering he's currently sitting at 16th on the ratings after only three events, a win here would pretty much seal it while simultaneously putting last year's much talked about ordeal firmly in the rear-view.
The Rookie: Conner Coffin
Considering his proven reputation as one of the best young point-break surfers in the world, it's hard to look past Conner as the rookie to shine here this year. The eighteen-minute mini movie he released of himself surfing J-Bay three years ago, High Line, showed just how comfortable he is surfing the place in a range of conditions, and he's only gotten better since then. With solid performances already at the tour's other right-handers and a string of shitty results in recent events, the Santa Barbara kid will be looking to get himself back up into the rookie of the year conversation with a strong finish at Jeffreys.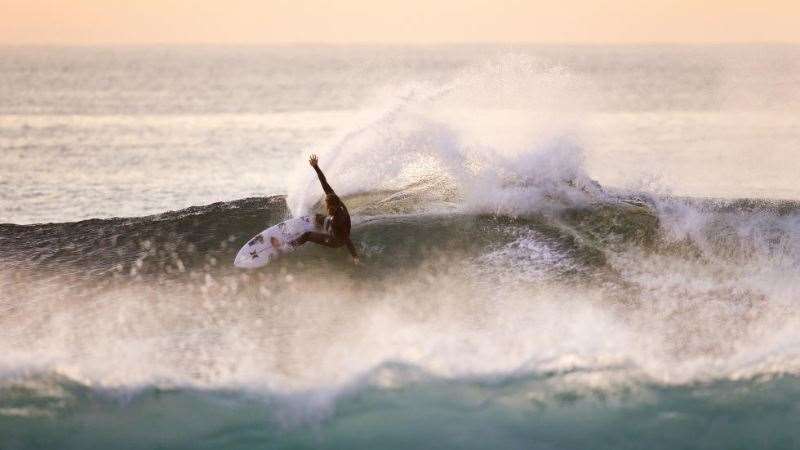 Conner's railwork will be a must-watch in South Africa. Photo: WSL/Cestari
The Other Guy: Jordy Smith
Amazing that we're still not talking about Jordy as a contender, but once again consistency hasn't been the heavy-footed South African's strong point this season. J-Bay, however, is the wave where he could most likely turn it around. His performances here over the course of his career have been pretty legendary, and with two previous wins (back-to-back) and arguably one of the greatest waves ever ridden at the place in competition, he's proven that at J-Bay, at least, he's capable of living up to expectations.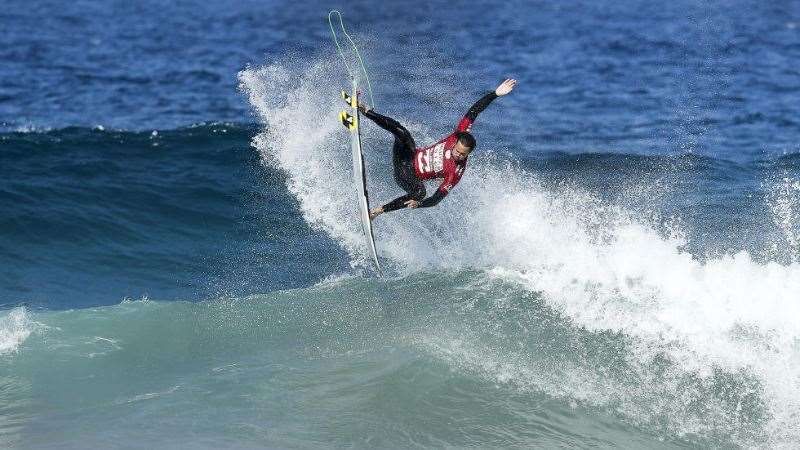 Jordy's been busy warming up for his home tour event with a hit-out at the Ballito Pro. Photo: WSL/Cestari
Tracks