Featuring the best, the worst and the idiotic from 2014.
The Tracks Awards have been around ever since an editor once posed the question; "How the fuck do we fill ten pages before Christmas?" back in 1977. So in that great literary tradition, and without further ado, here is the first ever online Tracks Awards featuring the best, the worst and the idiotic from 2014.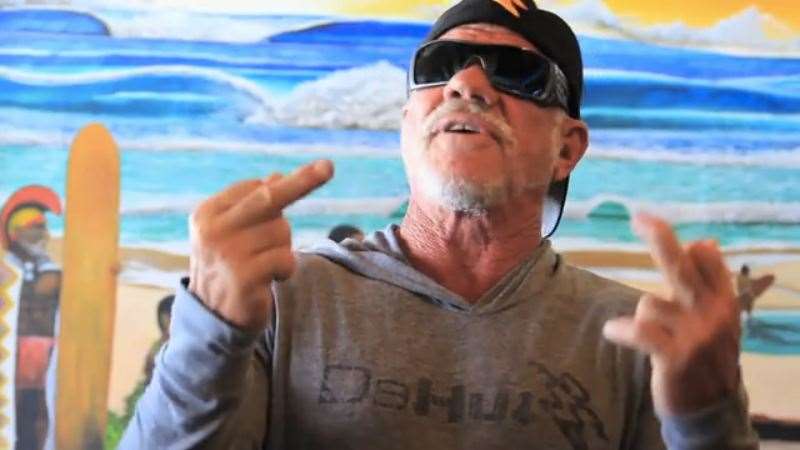 The Straight Talking Award: Eddie Rothman
In a perfect shitstorm of Hawaiian randomness, Eddie Rothman expressed his displeasure with the ASP via the conduit of a fundraiser video for North Shore 2. Eddie, not one to wallow in ambiguity said, "Now that you threw this fucking stone, now that you threw this fucking punch. What, you don't want to fight now? Well, fuck you." What Turtle made of it all, is anyone's guess.
The Upset Auditorium Award: Noa Deane
You have to hand it to Noa Deane. It was no easy task to trump Dion Agius' expletive laden Xanax rant (whilst wearing tracky dacks, white singlet and sunglasses) at the Surfer Poll. Yet only seconds later Deane did just that, drunkenly yelling, "Fuck the WSL" to a room of 1000 people, of which 90 per cent rely on the WSL for their income. The worst thing was he actually had a good point on the corporatisation of the sport.
The Splitting Atom Award: Kelly and John John
There is no doubt that the heat of the year, if not in pro surfing history, was the semifinal at Billabong Pro at Teahupoo. Kelly Slater and John John Florence traded backside barrel after backside barrel in flawless 10 foot Chopes, both ending with heat totals of 19.77, the highest combined heat total in history. Slater won, on a countback, but really it wasn't so much a case of splitting hairs, but splitting atoms.
The God Particle: Koa Smith
27 second barrels, like God, Miranda Kerr's mythical third nipple, Bondi tubes and Gold Coast virgins, don't exist. Until 2014 that is. Not only did Koa Smith negotiate a 27 second tube at Namibia's Skeleton Bay, but he managed to film the whole half a minute of the mind-warping sand drainer with his GoPro camera. It was the best tube, and best footage, ever seen in surfing.
Dressed to the 9s Award: Jordy Smith 
With a minute to go in his round five heat against Julian Wilson at Bells, Jordy Smith took off on a wave needing a 9.97. For most pundits he managed a 10 with his first two turns; a monster carve followed a sublime fins-throw to tail slide. The rest of the wave featuring another big turn, two wraps and a tweaked, front-side air reverse, seemed to be buttery icing on the cake. However the judges thought differently handing Jordy a 9.93. Controversy erupted and for a whole seven hours, the intranet raged at the ten that wasn't a ten.
Skimming the Surface Award: Brad Domke
For most surfers, a skimboard is a pathetic disc of potential pain and embarrassment, best left to 8-year-old kids and buff shorebreak hanging kooks with ponytails. Thus when American Brad Domke starts riding what looks like a sliver of soap at 20 foot Puerto Escondido and West Oz's right, the first reaction is confusion. Akin to watching a Chihuahua trying to root a Rottweiller there is admiration for the sheer difficulty involved, but alarm at just how ungodly ugly it all looks.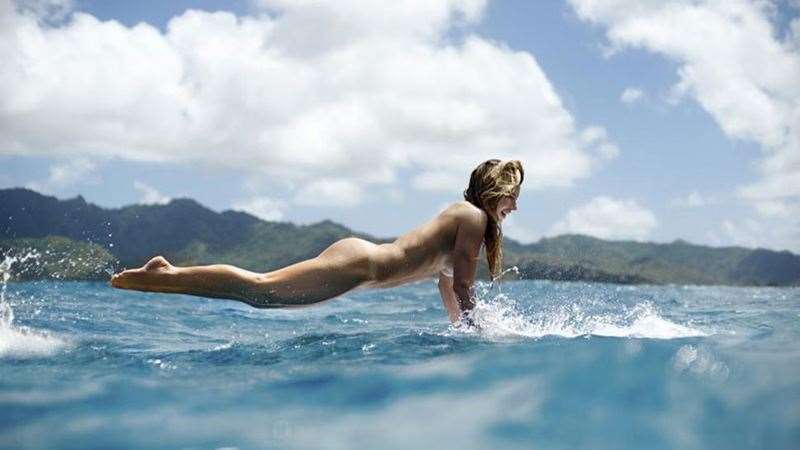 The Saltwater Enema Award: Coco Ho
In one of the most deeply pertinent and far reaching surfing incidents of 2014, Coco Ho went surfing with no clothes on. The resulting images almost broke the internet, as 16- year-old boys hunted in vain for any traces of labia and surf philosophers attempted to break down the deep symbolical meaning of it all. Unfortunately both camps ended up empty handed.
Best in Class Award: Stephanie Gilmore
In contrast, while Steph Gilmore has posed naked before, in 2014 she systematically went about proving that she is the best female surfer the world had ever seen. Starting off with a star turn in Spirit of Akasha and finishing off with a fifth world title, an award winning documentary and, her greatest achievement, a Tracks cover, Steph Gilmore again elevated the sport with both style and substance. And there wasn't a nipple in sight.
The Centre of The Universe Award
Trying to get Kelly Slater off the front page of the surfing news is like trying to get genital warts of your knob using Vegemite and a rolling pin. After getting knocked early in Portugal and almost ending his world title hopes, Kelly responded by going freesurfing and landing either a 540 or 720, depending on much of an action sports know-it-all fuckwit you are. Despite Gaby and Mick still being in the comp, the surfing world was again revolving around Kelly Slater. He didn't seem to mind at all.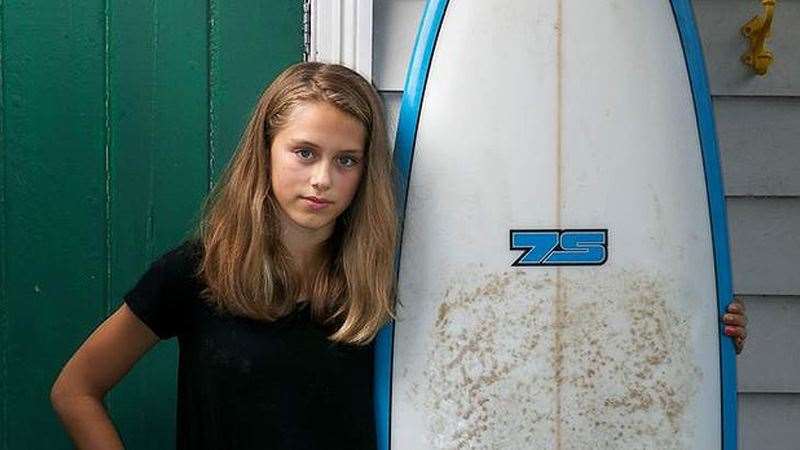 The Bitch Slapped by a 13-year-old award: Tracks Magazine
"I clicked on your web page titled 'Girls' hoping I might find some women surfers and what they were up to, but it entered into pages and pages of semi-naked, non-surfing girls." With that statement 13-year-old Olive Bowers made headline news, berating Tracks for its lack of female empowering content. Fair play to the lass, she had a point. The editor responded ("my first ever article was on Pauline Menczer") but he should have just pointed her to Coco Ho's more powerful statement.
Tracks