Arriving on the beach today I watched a lifeguard jam a dangerous current sign into the sand in front of the crowd at Pipe.
| | |
| --- | --- |
| | Arriving on the beach today I watched a lifeguard jam a dangerous current sign into the sand in front of the crowd at Pipe. He drove it in super deep with a sense a ceremony more suited to a territory claiming flag-plant. Someone should have been there to hand him an Aussie ensign. |
Arriving on the beach today I watched a lifeguard jam a dangerous current sign into the sand in front of the crowd at Pipe. He drove it in super deep with a sense a ceremony more suited to a territory claiming flag-plant. Someone should have been there to hand him an Aussie ensign. By the end of the day the North shore [in competition namesake at least] would belong to the Aussies.
First impressions of the lineup were a little disappointing. For round three Pipe had looked like a Victoria's Secret model. It was curvy, and perfect in every way. However in a couple of days it had developed a case of cellulite. There were little dimples all over the place. It was definitely poor man's Pipe. The kings of spin in the commentary booth called it "textured." That's basically double speak for onshore.
The judges took one look at the ruffle and put the word out to the surfers that manoeuvres would matter. Big Beau Hodges in the commentary booth put his own verbal twist on that and started telling the crowd that the judges were looking for "explosive manoeuvre possibilities." If anyone was going to combust it was Beau.
Meanwhile Kelly showed up with another great outfit. Interest in his equipment at contests is starting to feel a little bit like the red carpet at Oscar's night. It seems every time Kelly strolls down the beach you hear someone gush, " Oh my God have you seen what Kelly's riding? It looks amazing on him." Unfortunately for Flynn Novak in the quarters Kelly was indeed glamorous.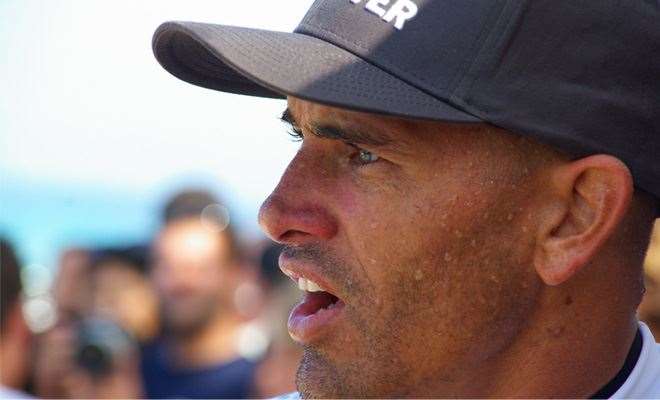 Kelly's face animates signalling there's another sick wave breaking at Pipe.
On one wave he just takes off and hits the breaks. The thing beneath his feet is more joystick than surfboard and he tweaks it with the subtlest of weight adjustments in the barrel. The stall tactics keep him hidden long enough to convince the judges he's in another dimension of excellence and after he pops out they throw down a 9.57. For the rest of the heat he just skateboards. " That floater was like a kind of 50/50 axel grind," the commentator blurts after Kelly glides along the roof of a backdoor runner. Straight-line Pipe specialist Flynn Novak didn't stand a chance.
After a few word-perfect responses, Kelly tells the media gaggle, which is headed by the perpetually hip GT, that the board is actually a 5'6" double concave quad with a moon tail.
It comes out like confirmation of his alien status.
Taj had no intention of staying grounded either. Nothing excites the West Australian more than a bit of sea-breeze waft, so he can hover above the lip like a jiggling mobile.
In the belt-off between him and Bede Taj gets the nod, ending Bede's chance to move in to number two. Taj tells everyone his only real concern for the semi is whether or not Michel Ho will give him a wave. The legends concept has gained momentum and the semis are scheduled to be shared with heats involving Michael Ho and Derek Ho along with Gerry Lopez and Rory Russell.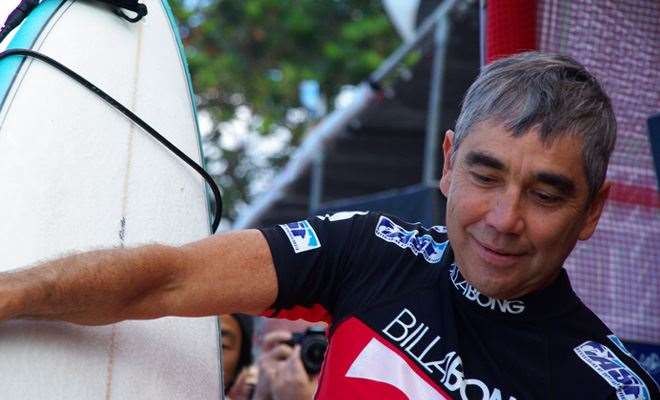 Gerry Lopez now lives in the snowy mountains of the mainland, fortunately snowboarding hasn't ruined his style one bit.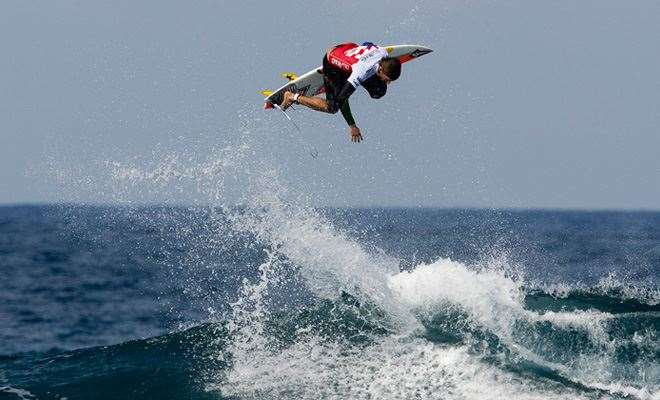 Another PIpe legend but with a different kind of flair, Bruce Irons. [Photo by Sparksy]

Dane does a job on CJ and sets up a high performance clash with Taj in the semi. As Gerry and Rory paddle out alongside Dean and Kelly, the commentary team are trying to convince everyone that the "North Shore" was a high point in film history. The film review might have been B-grade but Gerry still had some of the magic – The graceful trim and the dramatic flutter of the hands. On one wave he lays the bottom turn right over and tickles the water with his inside hand like a flamingo wetting its beak. Vintage Lopez. Russell is little stiffer. His body moves like a pair of barbecue tongs. It can only go in two directions. Still everyone is cheering for the 1971 Pipe Master. The man they call ' the dog'.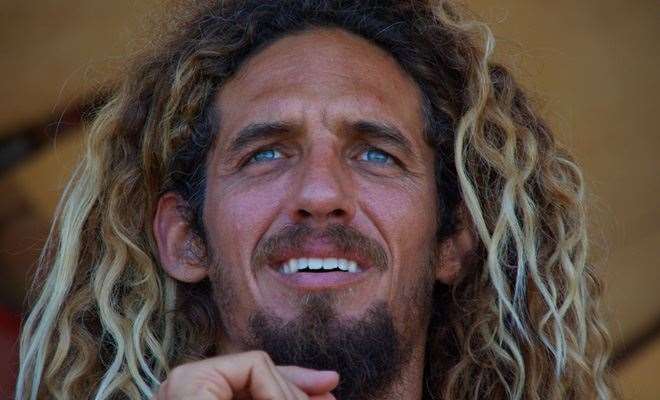 A former Pipe Master and keen spectator, Mr Rob Machado.
Slater moonwalks through the semi against Deano, comboing him on the buzzer.
Winning isn't ever enough for Kelly. Just to ice the cake he rides a wave in tandem with Gerry. Everyone applauds in an 'ain't that sweet' kind of way. Kelly comes in all chuffed but has a confession to make. " I actually surfed against Gerry in his last Pipe Masters and dropped in on him." With that of his chest the 9 times champ slinks away to ready himself for the final.
Taj and Dane turn Pipe in to a three-foot beachie. There's so many fins thrown it's almost disrespectful to a wave that's built it's reputation on the barrel. Fun to watch though. Meanwhile Derek Ho paddles out and says anything you can ride Kelly I can go smaller. Derek snowboards around the lineup against his brother Michael on a 5'0. Despite being close to 50 Michael obviously still has a pretty good handle on backdoor.
The final is an anti-climax. Kelly never really finds his rhythm and Taj just pretends it's Rabbit Hill. He does pull one glorious alley-oop though that probably wasn't done justice by webcast. Kelly does his usual sulky-surf and stays out a little longer to deal with that feeling he so rarely encounters  – losing.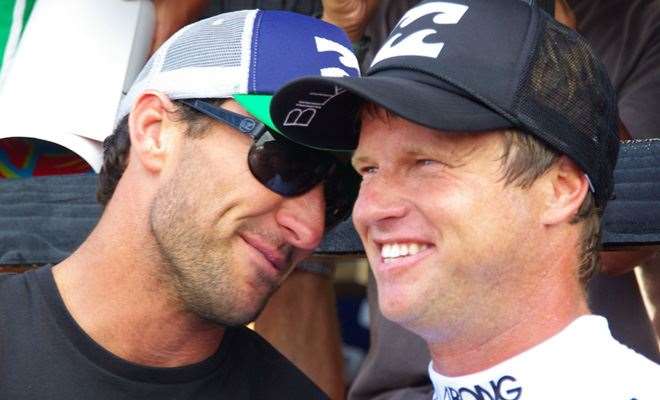 One for you and one for me – Joel and Taj grinning and winning.
Up on the podium for the presentation Big Beau, the Darrel Eastlake of surf commentary is convinced he is totally down with Australian culture and once again leads the crowd in a chant of "Aussie, Aussie, Aussie Oi, Oi, Oi."
Still he is about to hand every available big cheque on the day to someone from down under. Steph scores $25 000 for the Triple Crown. Actually it's called the 'triple threat' now. I'm not sure what that means? But it sounds like you've dropped in on Sunny, Kala and Johnny Boy all at once. Beau makes a big deal about Joel getting his double and Steph for her triple crown [sorry triple threat – watch out].
"Joel gets way more than Steph, he gets $50 000," foghorns Beau.
Somewhere Germaine Greer is watching the webcast screaming. Parko handles himself well on the podium for a guy who had suffered the biggest defeat of his life only a few days earlier. He even makes a joke. "I guess this is my consolation prize." Taj is the next tax dodger from the antipodes in line.
He gets $90 000 with both Vans and Billabong chipping in. He even borrows a line from Tracks in his acceptance speech. "This is the next best thing to a world title," he proffers wearing a grin not even a warm Swan lager could wipe away.
$90 000 is a lot of money for Taj to slip in his bank account a few days out from Christmas – but $100 000 sounds way sexier. I know it's a big payday but surely they could have come up with ten grand more just to give it that six-figure feel. Pipe Masters huh? Tight Bastards.
– By Luke Kennedy
Photos: Will Swanton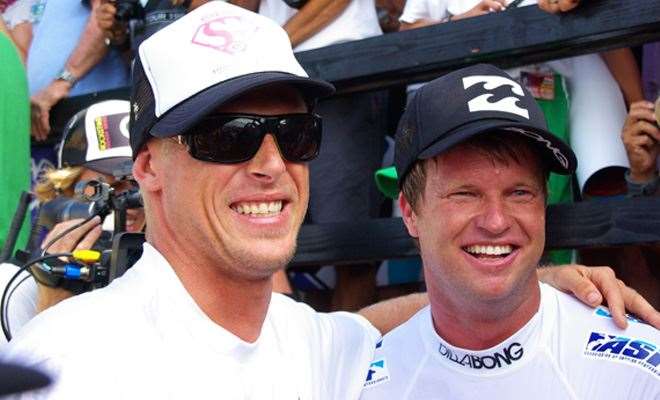 Eugene (aka world champion Mick Fanning) and Taj try split their collective melons.

Tracks