Different strategies pay dividends in an entertaining round three.
World champion John John Florence was very obviously dripping with relief as he fronted the press. Priority-wielding Mikey Wright had just gifted him the winning wave. John John got the job done with his slinky-framed slash and a cute barrel, but he'd won the hard way. 
"I could see it from his point of view because it was a smaller little wave, but I was like 'thankyou', I might win," indicated the world champ, almost shivering with the adrenalin of a close win.   
It had begun how we hoped, with a barrel duel behind the rock, Mikey getting the better of the opening exchange after exiting with a hucked, grab rail cutback that brought to mind a muscle car taking a bend at spin out speed.    
Photo: Swilly
In another world John John might have been more like Mikey, a little nonchalant about contests and inclined to go for nothing but the biggest turn. Mid-way through the heat John in fact lapsed back into his alter ego self.  Chasing a mid six, John John lined up and launched on the opening section of a wave he could have whipped till' it bled. He was high and inverted but didn't ride out. The back up behind it still left him chasing a score. Asked later if it was a high-risk strategy John John didn't pretend it was all - cool. 
"It was definitely a high risk option and that was just my freesurf self coming out. I haven't had a lot of freesurfs lately so it's all just building up. I saw it and the wind was blowing into it and I was kinda, 'how can I not do an air right now?'… It probably wasn't the best move competitively. "
Florence is in an interesting zone. He's trying to utilise the sense of liberty and abandon that having the title gives him, while still preserving some of the discipline and focus that enabled him to win. He wants to win going big and having fun, but is still searching for the right zone to play in.     
If John John got out of gaol against Mikey, you had to feel a little sorry for Jeremy Flores.  Chasing an 8.33 Jeremy did what every viewer on the beach and at home had been dreaming about all day – he pulled into the barrel. Yes, there were other much better barrels ridden later in the day, but Jeremy was the first to really say, "dam this, I'm at the Superbank and I just want to get tubed."
In the end Flores was half a point short and expectantly full of the 'poor me's. 
Not to detract anything from Wilko's performance, which wisely borrowed heavily from last year's approach, which won him the event. It's a pretty simple formula. Widen the stance, keep the centre of gravity low and swing at the lip like a base-baller trying to hit a homerun every time. 
Post heat, Wilko had a firm opinion about the validity of Italo's air up against surfing more akin to his. 
"I was driving up but I had my phone on, on the dash so I kind of saw it… It was a crazy punt but I don't know if one turn out here's a ten but that air was psycho … I think if the waves are pumping putting together eight turns without making any mistakes is just as impressive as one big air."
Photo: Swilly
Parko might have had a fair claim for a ten-point ride in his point break master-class against Miguel Pupo. After a storm straight out of Ghost Busters (for those who can remember the original) temporarily delayed competition, Parko and Miguel returned to a lineup that had been barely visible for several minutes. Shortly after paddling back out, Joel took off on what was plainly the best wave of the day up until that point – a perfect ribbon of water that stretched from behind the rock half way to Greenmount. Still obscured by the pouring rain, Parko unleashed three sublime turns before disappearing down a tunnel for the length of an athletic track – two more cleaving turns and another barrel later, the judges saw it just short of a ten. Asked if he was disappointed the judges hadn't laid down the double digits when they had for Italo, a winning Parko was happy to accept the score and compliment the Brazilian flyer.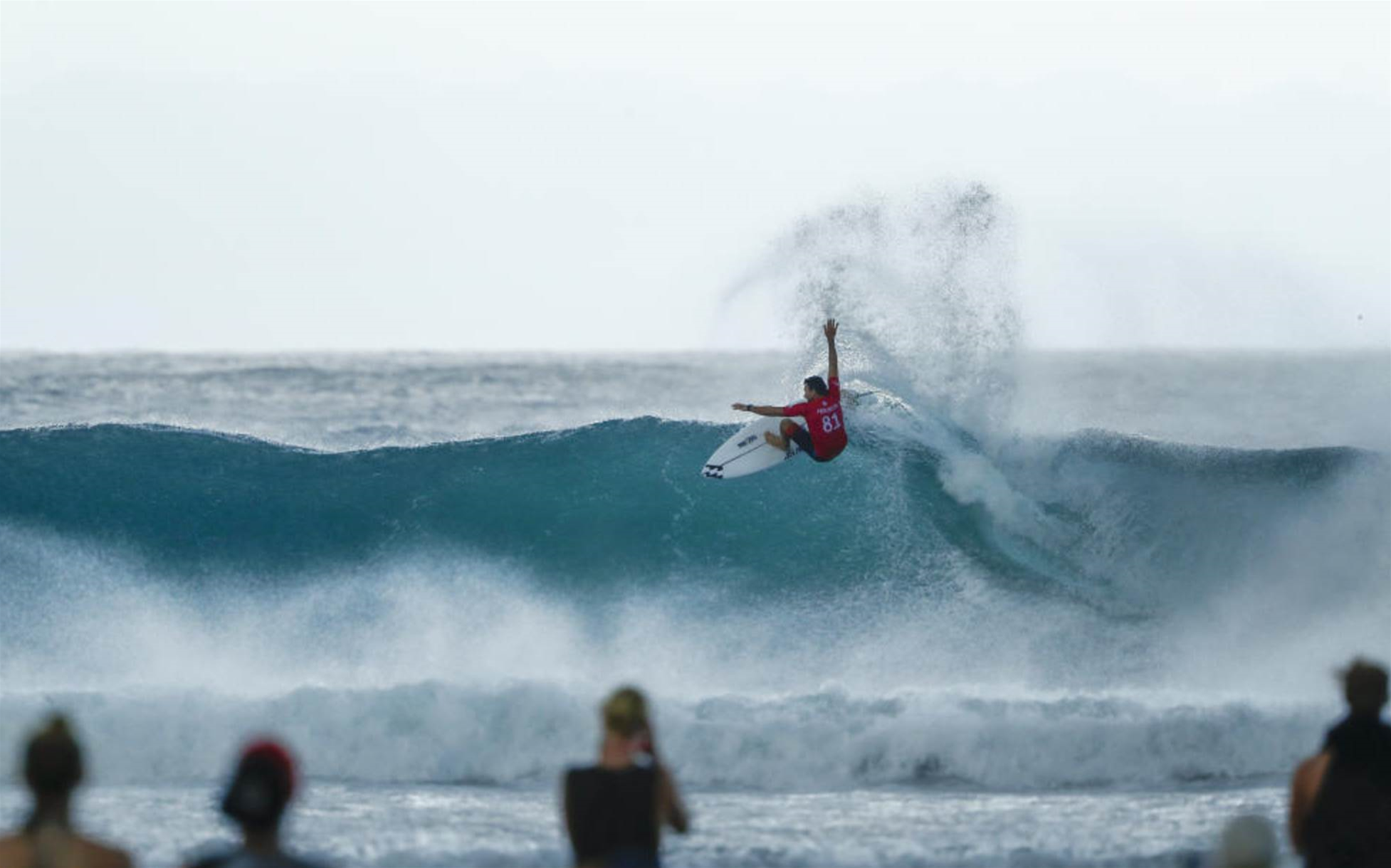 Photo: WSL
"Nah not really. That (Italo's wave) was freakish. I don't think someone will do another one of those this event and maybe not even this year. I'm happy with that being a ten. It's something I could never imagine myself doing … the test of time will really tell if that's a ten or not. It's kind of like Kelly's air at Bells. I looked at that the very first day, I didn't think it would be a ten, but I look back at it today and I think it was a deserving ten. You don't know how far surfing's going to be pushed in the nest two events, two years or twenty years."
Parko may not be able to visualize himself spinning like a chopper blade ten feet beyond the lip but he remains one of the events best barrel riders and perhaps the best 'classic' point surfer in the event. Parko is in form. If the swell rises and folds in the right way he is definitely a contender. 
Photo: WSL
In the dusk light, Ziek Lau and Jordy Smith duked it out – the tour's two heavyweights trying to throw knockout blows. Ziek, who is shaping up as a marvelous addition to the tour, looked to have thrown the winning punch with a double - digit barrel that blew away all the hollow entries for the afternoon. 
Jordy somehow dragged himself off the canvas and found an 8.8. It could prove to be one of the most important waves of his career. He will ride high on the confidence of the victory and with Ziek out he wields the heaviest blade in the contest. 
Did we forget Italo? The hero of the day. He proved he can win sky high or connected to the lip. The main obstacle the little matador faces is the fact that despite being in scintillating form he is increasingly amongst company who know what it means to win an event.   
Tracks