No where in the world has as many good waves as Indo. Fact. This is our ten best. Any we've missed?
1. Macaronis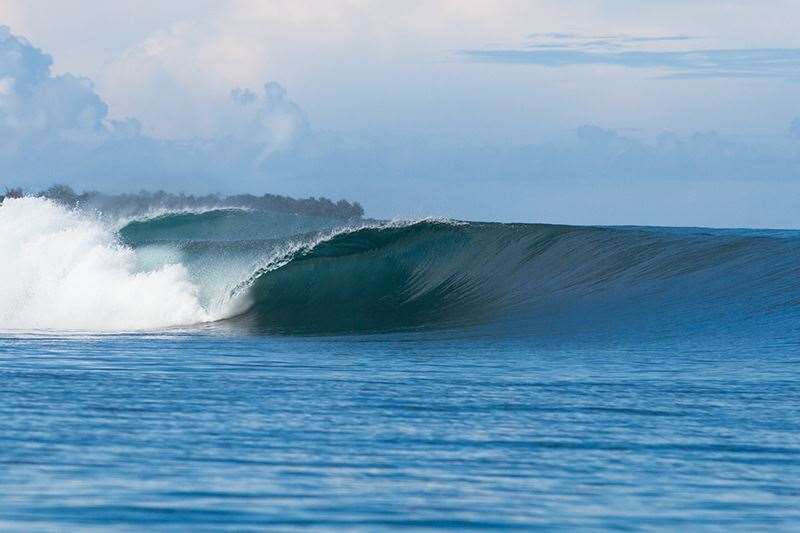 Description: Macaronis has a fairly steep takeoff that leads straight into a perfect tube. It then winds down the reef for 250 yards, at a speed that is absolutely perfect for performance surfing.
History: Legend has it that landcampers first discovered the wave and named it after the diet they had been subsisting on for months. The first boats arrived in the early 90s and since then its been a staple for every Mentawai trip ever since.
Logistics: Choose between the land camp Macaronis Resort or the boat trip option. Or for the mad, a brutal and harsh tent and rice (and pasta of course) DIY experience.
Season/swell: Breaks from 2 to 8 feet, through the tides and maintains its form even when onshore.
2. Keramas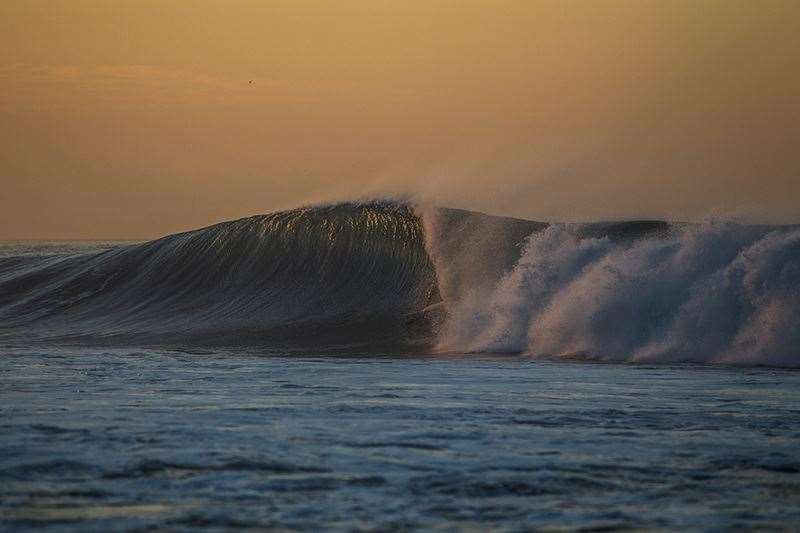 Description: Super fun right that walls up from four feet, then starts draining heavily above six.
History: For over 30 years surfers had visited Bali, often pining and dreaming for a right hander that handled the Bukit onshores. Whispers in the late 90s, led to photos in the 2000s, which led to now being a secret no more.
Season/Swell: Local winds are the major problem, making Keramas a dawn patrol special. The winter swells are still the most consistent, however the non trade north-west winds you need happen more often in the off season.
3. Padang Padang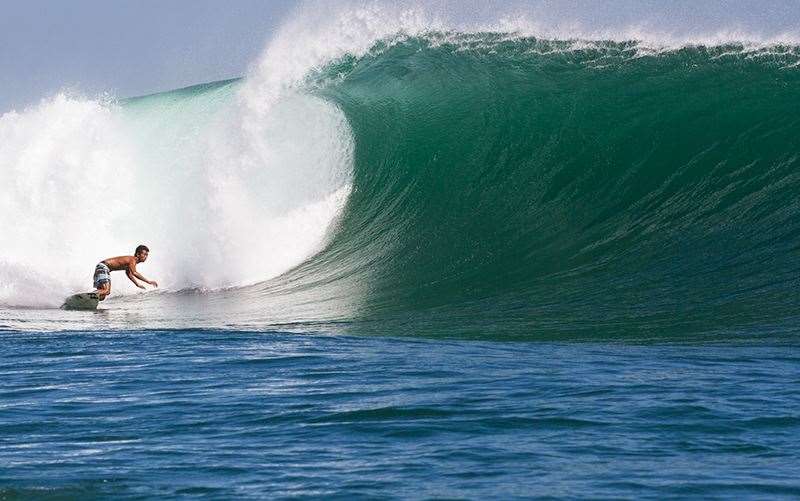 Description: The hollowest and best tube on Bali. Doesn't start breaking till it is 4 foot, and only gets proper at 6-8. Intense crowd, intense tube and a scary end section that gets shallower as you go along.
Stand Out Performers: In the '80s Jim Banks was the best surfer here by far. Jamie O'Brien and Kelly have done well in comps, but local legend Wayan Gobleg and Rizal Tanjung have notched up the most tube time.
Expense: Choose between half a star nasi goreng or cocktails by the infinity pool.
4. G-Land
Description: A mile long swathe of reef that offers more than half a dozen different sections, the easiest being Kongs at the top, the best being Speedies at the very end. When they link, paradise is found.
History: Spotted by Mike Boyum from a plane, he and his brother surfed it first in the 70s, then set up the world's first camp, Bobby's, which exists to this day.
Logistics: A white knuckled 8 hour night bus and boat ride from Bali has been superseded by an hour speed boat or even chopper.
Season: June through to September provides clockwork offshores with consistent swells.
Crowds: Ebbs and flows, but currently out of favour with 2014 best swells seeing small crowds of 30 across the whole line-up.
5. Apocalypse 
Description: In a word, a close-out. Just one that runs for 300 yards at warp speed over almost dry fire coral. The best close-out in the world then.
History: Guys like Dylan Longbotton, Mikala Jones and Timmy Turner however took it on in the early 2000s, the results blowing minds.
Why you must surf it? You don't, it's for the insane only.
Expense: The price of getting to Panitian Island off Java is low, but the cost can be high. Dengue fever and malaria are just two of the concerns, before you even worry about the wave and the reef.
6. Lance's Right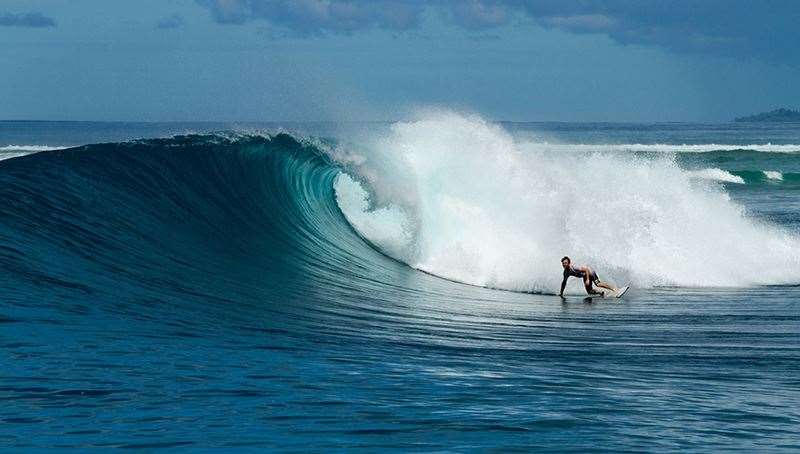 Description: Or HT's is a wave natural footers would give their left gonad too. A picture perfect six second tube, usually bathed in a golden glow and wrapping into a tranquil bay.
History: Australian Lance Knight stayed on the island for a weeks in the early '90s found the wave, just prior to Martin Daly and the Indies Trader rocking up.
Crowds: Crowds exist, but Lance's Right has a few moods and its possible to get early and late session to yourself, especially out of peak season.
Season/Swell - It needs winds from the north, but if it swings, Lance's Lefts on the other side of the island ain't bad either.
7. Nias
Nias Daze from Rafa's View on Vimeo.
Description: Nias was probably the only wave that improved following the Nias earthquake in 2009. The previous deep water barrel that needed a six foot swell to break, turned into a slabby right that started tubing at four.
History: Australian adventurer Peter Troy is credited surfing Nias first in the mid '70s, and by the early '80s it was one of the classic surfing pilgrimages. That hasn't changed.
Performers: Thornton Fallander, made a name for himself here in the movie Storm Riders,  while post Tsunami Jamie O'Brien's 2009 efforts in 10 foot death kegs in his movie Who Is JOB? reignited a whole new interest.
Expense: Nias is still a long, long way from anywhere and takes loads of planes, boats and buses to get there. This joint needs patience, not wads of cash.
8. Desert Point
Description: Trademarked as the best left in the world, and with good reason. A 400 yard locked in grower of a tube than can offer 30 second barrels.
Season: Needs dry season, big tides and a huge just right direction swell. So it's fickle as fuck, but the rewards are always worth the risk.
Crowds: Substantial. All of Bali's best have the conditions on lock, and its far easy to bomb it over these days. Plus, Bali huge swathes of short term resident pro surfers are all over it.
Expense: Substantial, but with guaranteed waves, who cares?
9. Rifles
Description: One of the Mentawais' longest, best and meanest righthanders, with a 500 yard rollercoaster ride of long tubes section, spliced with whackable walls and super shallow sectiony dry bits.
Logistics: The Kanduis land camp is on the pristine island, while other camps now dot the area adding the boat crowds.
Season: Lights up in the relatively rare big winter south swells and light north winds.
Expense: The No Kanduis landcamp ain't cheap, but its position is ridiculous.
10. No Kanduis
Description of the wave: Almost a mirror image of Rifles, which breaks on the other side of the island, but maybe even hollower and faster.
Death Factor: You tend to get locked into No Kanduis and the consequences can be the tube of your life or a strafing across live coral followed by never ending sets on the head.
Stand out performers: The OP Pro, an invitational event held in 2001, featured Bruce Irons, Andy and Shane Dorian scoring ridiculous backside tubes. And google Ozzie Wright and Kanduis and you'll find a you tube clip of Ozzie in a 20 second tube.
Season/swell: Again, needs a fairly solid swell to light up but breaks with more frequency than its island pal Rifles. Swell direction is important though, as the inside section on the wrong angle breaks boards and bones.
Tracks