Overnight a flood of imagery came through showing the reality of the depth of this disaster.
Padang 8pm Monday 1 November 2010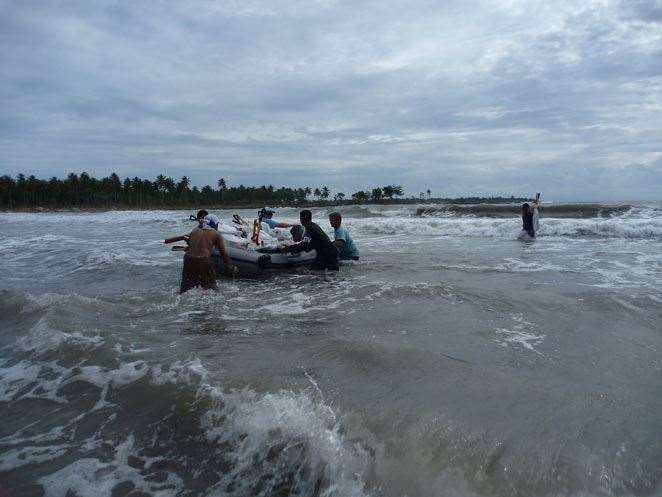 The only access to Maonai village, on Pagai Selatan, is a bay further down the coast and then a one-hour walk so SurfAid's Tom Plummer and Huey skipper Sooly decided to take on the three-foot shorebreak. As they surfed a wave in, one of the staff was flipped out of the front of the rubber ducky but he came up holding one of the building kits. They delivered the supplies. Photo: SurfAid
Overnight a flood of imagery came through from our emergency relief teams in the field and the stark reality of the depth of this disaster hit home hard.
Our Mentawai Program Manager Tom Plummer filed this video clip from what used to be the village of Gogoa, on the island of Pagai Utara, and near the famous surf break Bat Cave.
So much destruction and so many lives lost, and survivors so shattered and scared that they can't even eat - even if food is available and in many cases that is running short. Some are surviving just on coconuts and rainwater and they are in the mud, trying to shelter from the driving rain.
Aid deliveries have been hindered by a radical storm that hit on Saturday. Most charter boats could not operate in the dangerous sea conditions. The main ferry, the Ambu Ambu, which runs from the West Sumatran mainland to the Mentawai island chain, had to turn back to Padang. One aid boat carrying generator sets was capsized by a huge wave. Luckily all five on board were rescued.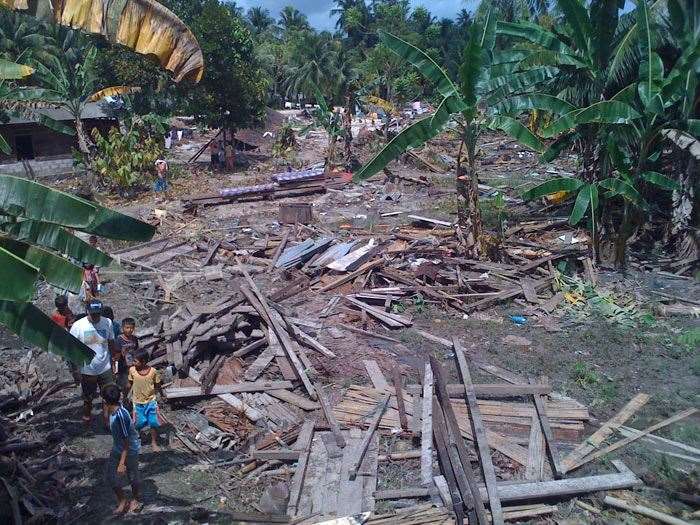 This is what is left of Masokut. Only one house remained standing after the earthquake and tsunami. Photo: SurfAid
Our Emergency Response Director, Dr Alan Rogerson, penned the following story at the end of another very long day for our staff:
Like all SurfAid staff, Lamhot Purba has a day job. He has lived in the Mentawai for the past year, providing the technical expertise to enable SurfAid to implement clean water facilities in several communities throughout the islands. Two days ago Lamhot accepted responsibility for a new job, and he has been Team Leader for the assessment and distribution that SurfAid has implemented in the affected communities of Southern Sipora.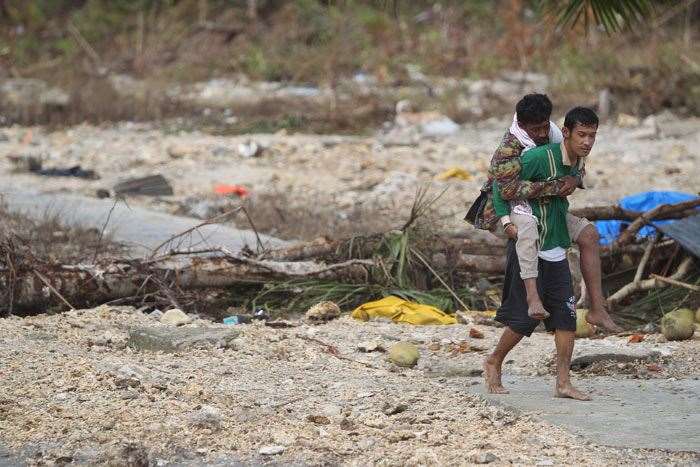 Survivors in the village of Muntei, on Pagai Selatan. Photo: SurfAid
CLICK HERE for more detailed SurfAid Tsunami Response activities.
You can donate via our website - www.surfaidinternational.org
From Australia you can also call 1 800 257 957
Send this link to a friend I schools.surfaidinternational.org I surfaidinternational.org
SurfAid International, P.O Box 630, North Sydney, NSW, 2059 Australia
E: aus@surfaidinternational.org P: + 61 2 9965 7325 F: + 61 2 8920 1621
Tracks