The two great white sharks attacked him about 25 km west of Coffin Bay, South Australia.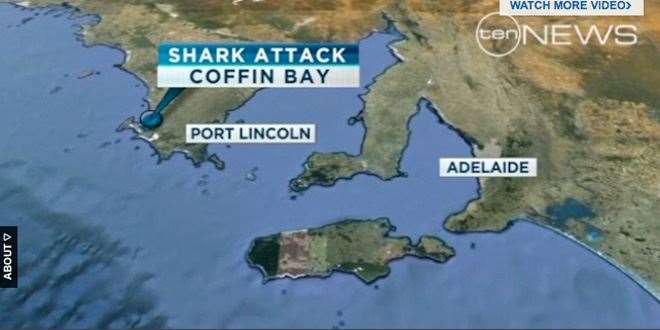 The Daily Telegraph reports today...
AN abalone diver is presumed dead after two great white sharks attacked him about 25km west of Coffin Bay, South Australia.
The skipper of the aluminium boat from which the diver was working saw the attack which happened south of Perforated Island.
He arrived at the Point Avoid boat ramp in the Coffin Bay National Park about 6.30pm and was treated for shock by paramedics.
It was not known exactly what time the shark attack happened.
The Advertiser understands the skipper told ambulance officers: "I saw the beast come up and take him. There's no way he could have survived."
One local, who did not want to be named, said the area where the attack happened was a popular abalone diving location and sharks were common in the area.
Port Lincoln CIB detectives were investigating the circumstances of the incident.
In a statement last night, police Senior Constable Tim Dodds said two sharks had been blamed for the attack.
"It has been reported that the diver was returning to the surface some time (yesterday) afternoon when two sharks, believed to be great whites, have grabbed him."
"The skipper on the boat witnessed the tragedy and has since returned to shore."
South Australian Abalone Industry Association president Jonas Woolford said the small diving community "would be devastated by the death of one of their own".
Lower Eyre Peninsula District mayor Julie Low said she was shocked at the tragic event.
"The council's thoughts are with the family and friends in these difficult circumstances," she said.
Click HERE for more.
Tracks