They will need to be in similar form this weekend when they take on the hottest 30 teams south of Pittwater.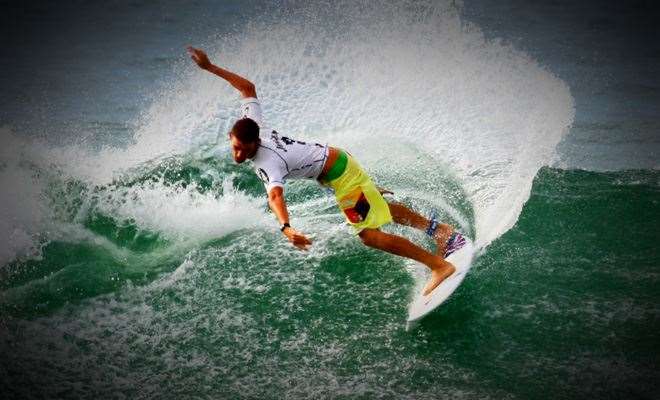 Rhys Bombaci and his ever reliable back hand whip.
Werri Beach Boardriders club will head up the coast to Cronulla for the NSW South round of the Jim Beam Surftag on Saturday and Sunday with the added pressure of being event favourites by virtue of their National Championship win last year.
Werri won the nation's number one club surfing crown in 2009 courtesy of some smart, consistent and dynamic surfing and they will need to be in similar form this weekend when they take on the hottest 30 teams south of Pittwater.The team has had an influx of youth with two 18-year-olds – Dean Bowen and Matt Gale – coming into the group that won the Australian title in place of Matt Jones and Ryan Bailey. Bowen and Gale will be joined by stalwarts Rhys Bombaci, Tully Robinson and veteran Todd Prestage.Bowen in particular is in sizzling form having won the world's richest junior event on the Gold Coast on Australia Day and the ISA world junior title in 2009.Club Secretary Dave Hunt said the squad knows they will be a marked team but held a firm belief in their own ability after last year's breakthrough performance."Last year was the highlight for our club since it was formed in 1982 and we are still on a high," Hunt said."We knew we were always threatening to win something and now we've stepped up and will be in everyone's sights."Now they'll all be looking to knock us off and be gunning for us but we are very confident without being too confident.Hunt also said Werri would not be disadvantaged by the team changes from last year's winners."We are a small club from a small town so we don't have as much depth as some clubs but that brings us tighter together," Hunt said."We have brought in these young guys and they are both surfing really well. Dean just won the Hurley competition and everyone knows how good he is."Other Illawarra and south coast teams include East Corrimal, Southbridge, Sandon Point, Wollongong, Ulladulla, Scarborough and Woonona.Elouera, North Steyne (2 teams), Queenscliff (2 teams), Freshwater, Curl Curl, North Narrabeen (2 teams), Garie (2 teams), Long Reef, Dee Why (2 teams), Maroubra, Avalon, Bronte, South Maroubra, Newport and Mona Vale have also entered teams.The event sees five-member teams given an hour in which each individual must catch three waves, with the second being a "Powerwave" worth double points. All three waves for each surfer count in the scoring and bonus points are awarded for teams that finish before the 60 minute mark.The competition will be the first time the NSW South round has been contested, with clubs from the Palm Beach in the north to past Wollongong formerly competing against the rest of the state for the NSW title. Following last year's event organisers recognised the depth in the region and decided to split the state into two zones.
The top eight teams from the NSW South round will progress through to face thecountry's best clubs in the Jim Beam Surftag Australian final.
The final is expected to witnesselite ASP World Tour surfers including world champion Mick Fanning, world number two Joel Parkinson, Dean Morrison, Taj Burrow and Kai Otton along with numerous other top line competitors lining up for their beloved clubsat Sydney's North Narrabeen beach on February13/14.Another major part of Saturday's program will be the FCS Manufacturers Cup.
A competition for surfboard manufacturers, the event is run to a similar format to the Surftag series. Four man teams, made up of two factory employees and two team riders, will clash for the right to contest the national Manufacturers Cup final. The top three teams from the nine entrants will progress from the NSW South event.
Saturday's surfing will get underway at 730am and is expected to wind up around 5pm, while Sunday's program will commence at 8am with the all important final scheduled to run from 3-4pm.The next event on the calendar will be the Jim Beam Boardriders Cup on February 12 before the Surftag National Final on February 13 and 14. All three days will be held at North Narrabeen.
2010 Jim Beam Surftag Australian Series
23rd Oct           Industry Challenge – Winner: Hurley29th Nov          Women's Surftag – Winner: North Narrabeen19th Dec           VIC Qualifier – Winner: Phillip Island9th Jan              WA Qualifier – Winner: Margaret River 'A'15th Jan            QLD Qualifier - Winner: Kirra23rd Jan            NSW North Qualifier - Winner: Merewether30/31 Jan          NSW South Qualifier - Winner: ??12/13/14 Feb    Australian Final The 2010 Jim Beam Surftag Australian Series is proudly supported by FCS, Tracks, Swellnet, Sanyo, Beever and Global Surftag.For more info go to:www.globalsurftag.com
By David Lyall
Tracks