A North Point super session, John John, Mick, Kerrzy and Noa do the Box and more!
Reunion Island Gets Hit by Another Shark Tragedy
Up-and-coming French surfer, Elio Canestri, was attacked and killed by a shark earlier in the week marking Reunion Island's seventh fatal shark attack since 2011. Tragically, Elio was only 13-years-old and according to Jeremy Flores, was "one of our best up-and-coming surfers". Our sincerest condolences go out to Elio's family on behalf of the entire surfing community.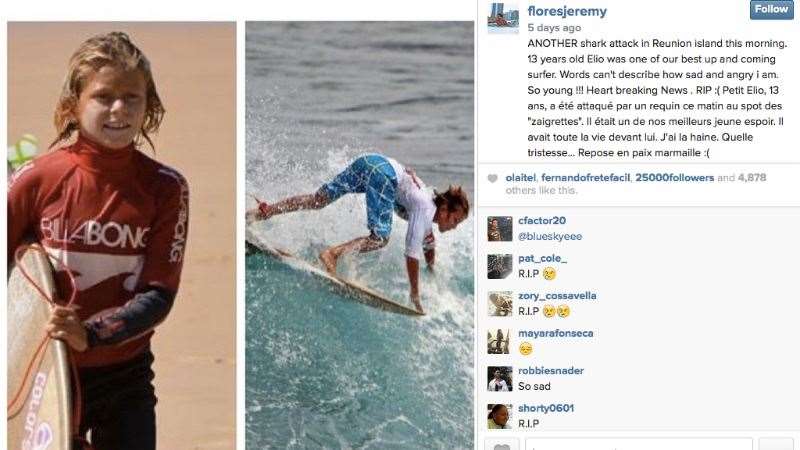 The Surf World Gets Schooled
It seems as though the whole of the WSL has recently discovered the power of trolling. Kelly had us going when he pretended he was going to retire from professional surfing last week. Now Josh Kerr, Mick Fanning, Joel Parkinson and Bede Durbidge had us convinced (sort of) that they, 'Surfers 4', were releasing a new cologne called 'Oceans Mist'. Don't worry, it was a joke. They're actually starting a Gold Coast based micro-brewery called Balter. Way awesomer.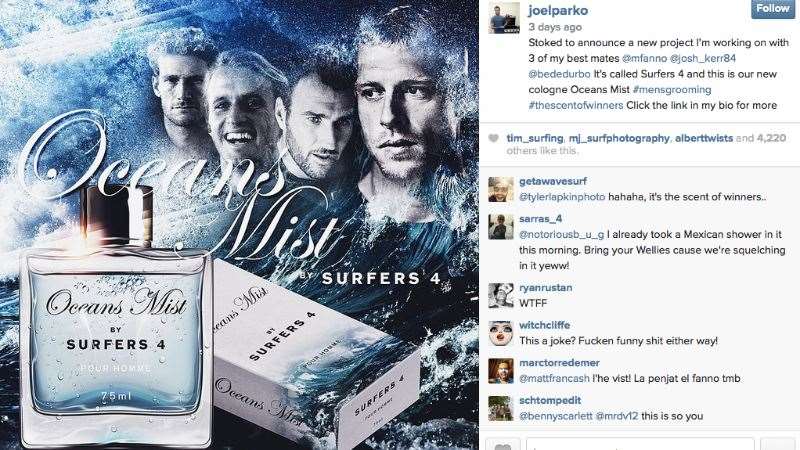 A North Point Super Session
I have to say it was pretty exciting when there was a rumour going around that the WSL might have North Point as a back-up site for the Margies Pro. This video, featuring Kelly Slater, Mick Fanning, Jack Robinson and giant killer Jay Davies, is an obvious indication as to why the surf world was frothing at the prospect of heats being held at North Point. Unfortunately, guys like Owen Wright and Julian Wilson missed out on these waves because they were competing in big, sloppy main break. You'd have be pretty bummed to not get a heat at The Box and then miss this session, both in one day.
Not sure about the music choice in this one but it is worth putting up with to watch waves like these.
Fernando de Noronha is Pure Paradise
About 15,000kms north-west of North Point, WA there is a little island which is worth every hour and every cent spent on travel to this distant location. Fernando de Noronha has become a stomping ground for Brazilian Pros and with good reason. It's a bona fide tropical paradise just off the coast of Brazil with crystal clear waters, white sand beaches and perfect waves.
Here Lucas Silveira tears the place apart. Check out the time-lapse from 2:41 for a real indication of how beautiful this place is.
Tracks Clip of the Week – John John, Mick, Kerrzy and Noa at the Box
Geez, someone at MySurf.tv must really be into their heavier music because, like the clip at North Point, this video features some serious double kick on the drums and distorted guitar action. I supposed it does suit a super heavy wave like The Box though.
No matter what your music taste is, you're sure to appreciate this clip. It's a frenzy of heaving, wide-eyed barrels. Of course, being no stranger to doing airs in heavy conditions, JJF decides to mix things up and throw a backflip in there just for laughs.
Matt Banting's Weekend Away
Mr Banting went home to do some soul-searching after his early exit at Bells this month. Lucky for him, the mid-north coast of NSW was pumping over the weekend. Matt and his crew took a trip just south of their local stomping ground – Port Macquarie – and here's what they scored.
The stylish wrapping roundhouse at the start of the clip is glorious. For a youngster, Banting throws a ridiculous amount of water.
Jordy Lawler – the Good with the Bad
Every surfer has to pay their dues. From reef cuts to fin slices and nip rash to boardy chafe, we've all been there. Jordy Lawler really took one for the team when, during his second surf in Samoa, he copped a face full of sharp reef and had to be rushed straight to hospital. Worst of all, he did it in epic waves and had to miss out. Bummer.
Taj and Ottz on a Tear
Just before Bells, Taj Burrow and Kai Otton took it upon themselves to go to town on a little right hander in an undisclosed location. They really do just shred this wave to pieces. Kai even does his best to impersonate a spring chicken at 0:12 when he throws a very tidy backhand air-reverse.
Brother Trailer Lands
Kolohe Andino has long lived with the title of the great American hope, which sometimes seems to strangle him in contest situations. What Youth's new project Brother attempts to show Kolohe "surfing free, with his friends, around the world" without the constraints of contests. It's Kolohe and friends, a pure display of surfing stoke, and we can't wait to watch it.
#Tournotes – Behind the Bell
Hurley have produced another great insight into some of the WSL's behind the scenes action. The team putt for $50, Felipe's crew show off their soccer skills and Nat Young's girlfriend reveals his super-secret Bells strategy. At the risk of sounding lame, Carissa Moore and a young fan share an adorable and heart-melting moment at the end of the video. Very cute.
Tracks