A wave pool in Melbourne, Raoni gets suspended and Air New Zealand's safety video is just plain awesome.
Raoni Monteiro Gets Suspended
Last Friday, May 8, the WSL confirmed in a press release that Brazilian surfer Raoni Monteiro tested positive for the use of banned, performance-enhancing drugs. According to the WSL's statement, Monteiro tested positive during last year's Billabong Pipeline Masters and has since been serving his 20 month suspension from competition. According to the Brazilian surfer he took these performance enhancing drugs by mistake. It's a hard-line suspension from the WSL and one that indicates just how serious they are about legitimising surfing as a globally recognised professional sport.
Air New Zealand's Safety Safari
Airlines may have finally realised why no one tunes into their safety check videos at the start of flights – they're (usually) boring as hell! Air New Zealand has brought some serious game to their pre-flight safety video which surfers and non-surfers alike are bound to enjoy. It features Mick Fanning, Gabriel Medina, Alana Blanchard (you get the feeling that Rip Curl had something to do with these three being there), Anastasia Ashley, Laird Hamilton and more! Watch for Mick screaming at his GoPro while surfing Snapper. It would have been pretty funny to watch him filming that part.
Wave of the Winter: The Movie
Surfline and Oakley have thrown together an excellent 20 minute piece which breaks down how the 'Wave of the Winter' is selected. Jamie O'Brien rightfully takes the prize for his insane no handed, double-spit, behind the foamball monster which you will see again and again in the clip. It doesn't get old.
Stay tuned right to the end to see what is possibly the wipeout of the winter.
Tracks Clip of the Week - Matt Wilkinson Lives the Dream
The man with possibly the most luscious locks in surfing (see 2:04) and arguably the fiercest backhand on tour dropped a clip earlier in the week, which condensed his last two years into four minutes of fun. There's a reason Matt Wilko's always stoked and surely it's because he gets to surf outstanding waves in warm water all year round. Bravo Wilko, keep up the good work.
The Oi Rio Pro Kicks Off With A Bang
Despite some serious questioning about whether or not Rio deserves to be on Tour (myself included), the wave gods decided to punish all us neysayers and produce some great waves for the first day off competition. Kelly, as Kelly does, got heavily barrelled twice in a heat and Felipe, as Felipe does, pulled off the biggest backside punt of the year. Round 2 was also held overnight and there were upsets galore with Parko, Wilson, Smith, Andino and home crowd favourite Miguel Pupo all going out in straight sets. Parko capped off a shocking day by getting flipped off a jet ski. Watch the incident as well as the highlights from day one below.
A Wave Pool in Melbourne
Some of you may remember late last year when architect Damian Rogers and engineering team Arup made the world aware of their proposal to build an artificial surfable wave in the heart of Melbourne. Earlier in the week, the proposal was selected as the only international idea to compete in a New York based competition called Pitching the City. The competition recognises outstanding concepts which use urban space in new and innovative ways. The nomination to compete in this contest is just another step in the right direction for Rogers who told Tracks that it is his full intention to see the project up and running. More to come on this story early next week.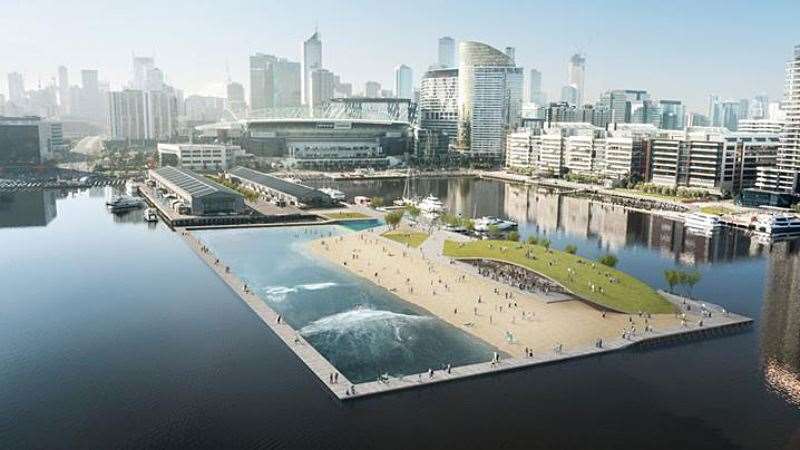 A Dream Day with Damo
Damien Hobgood was in WA during the madness of the Margaret River Drug Aware Pro while his brother CJ was competing. He stuck around for a few days after the circus had left town and filmed himself having the perfect day of getting barrelled on rights in the morning and slotted going left in the afternoon.
Proceed with caution – you will get very jealous.
Tracks