How a couple of WA tradies ended up strutting the world stage...again.
If not for Australia's long rich history of producing big wave gurus not prone to, um, training, you could almost say it's a WA thing.
But for the second year in a row, a couple of tradies from WA, Mick Corbett and Jarryd Foster, have again downed tools and made haste for Los Angeles and the glitz and glamour of the World Surf League's Big Wave Awards.
Corbett is up for a gong from their recent trip to Nazare.
It's not the first time the unlikely pair has rubbed shoulders with the stars, both were nominees last year but it wasn't Shane Dorian, Greg Long or Dave Wassel they found themselves enamoured with.
"We spent most of the night talking to Josh Harris from that Deadliest Catch show," Foster tells Tracks on the long drive from his Dunsborough to Perth.
"That's probably the most star struck I've ever been, we ended up having a few drinks with him and listening to all his stories. You think surfers have got some good yarns, we got nothing on fishermen that's for sure. It was bullshit."
As luck would have, the pair was again thrust onto the world stage courtesy of the "Swell of the Decade" that bombed WA last year and footage of Corbett dealing with a beastly slab at The Right.
The media exposure though really went through the roof after footage emerged of both hurtling down Nazare's mud brown behemoths.
"I think we just got lucky with that one," Foster explains in his trademark self deprecating way.
"It was a bit of a worldwide slow news week and we were just in the right place at the right time."
Indeed, before the pair arrived back in WA, both phones were lighting up with mainstream media requests with glamorous reporters flown in to "get inside the mind of Australia's best big wave surfers."
Tracks: How did you two meet anyway?
Corbett: We would've been about 8 or something, and we were at a state round at Trigg Beach and I saw this little blonde haired kid sabotaging someone's board and his dad going off at him. We kinda hit it off from there really.
That's the other thing, you're (Corbett) from Perth, how'd you end up getting into big waves?
Corbett: Jarryd lived down south and we'd always go down there and I'd ride mals with him at Yallingup Mainbreak. That spot gets pretty sizey so by the time we were 13 we were riding 10-12 footers and it just progressed from there. It was never a moment like, "let's go ride monster waves", we just went out and did it. Then there were guys like Antman and Damien 'Taco' Warr who we both looked up to. I think that gave us a kick along.
From memory Jarryd started out towing with your brother Dan?
Corbett: Yeah, then he (Dan) got nominated for an XXL for a wave at Cow Bombie and I guess that's when the light went off for me. I was towing with Brad Norris at the time, then we parted ways just as Jarryd was looking for a new partner and that was it really.
What have you made of the exposure? You've been everywhere over the past couple months?
Foster: Yeah, it's been pretty funny. I had a good run with it a while back and then Tag Heuer picked up one of Jamie Scott's pics of me at Cow and it went crazy again. I kept seeing myself on these giant posters all over the world, like everywhere I went I was looking at myself, it started to actually shit me in the end.
You get a watch out of that deal?
Foster: Yeah, I was actually thinking of selling it though, would've paid for a shitload of surf trips.
You mean you don't wear it?
Foster: Maybe I shouldn't answer that (laughs).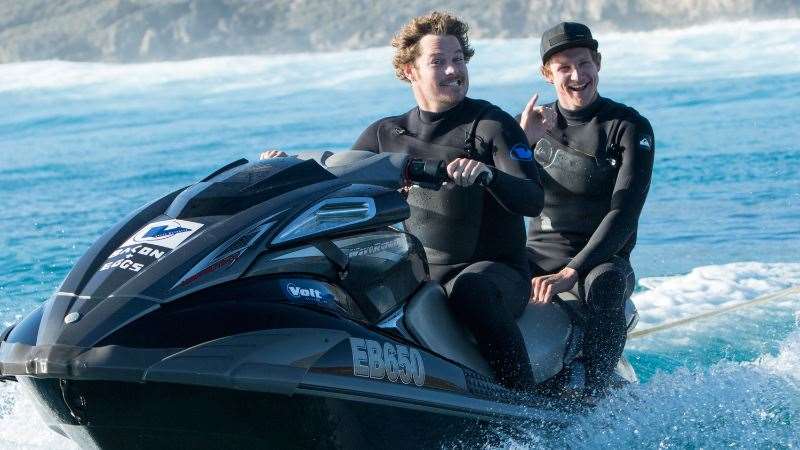 The boys, Mick (left and Jarryd (right). Photo: Jamie Scott
So back to the big wave thing. You guys don't really, you know, train but I saw some footage of Mick on 60 Minutes or something at the bottom of a pool with a weight belt on?
Corbett: They just wanted me to do that, (laughs,) I didn't know what else to say. We both surf a lot though, so that seems to do the trick.
No underwater breath holding courses?
Corbett: Nah, you've either got it or you don't really.
What do you two talk about when you're sitting out the back at a place like Nazare?
Foster: We just sorta talk shit really, make fun of each other like we've been doing since we met. It works better that way, you see a few tow crews out there and they're just freaking out getting over-psyched but we just keep it cruisy.
Well just on Naz; how do you figure it out? How do you know where to motor out and when and all that?
Corbett: We just showed up and hired a ski, had a look around and just went out. Getting out at Naz on a ski is pretty simple really, compared to somewhere like The Right. Getting the waves is a bit tricky, 'cos it shifts around so much, but it's really just like a giant beach break. So yeah, just keep it simple. Seems to work every time.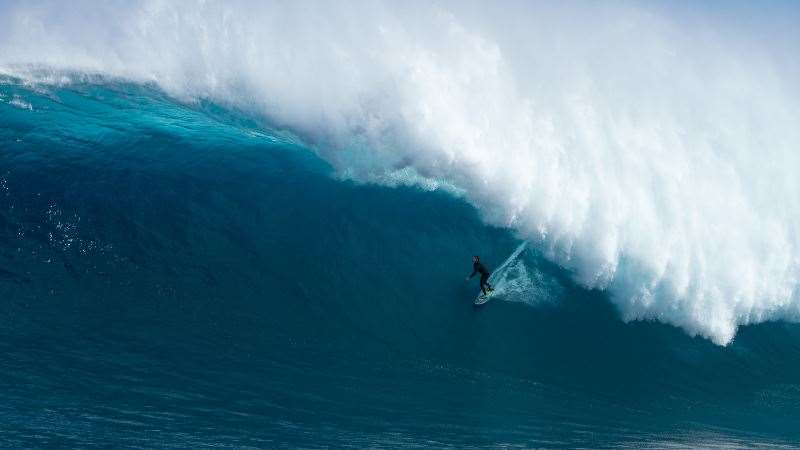 As Mick says, you've either got it or you don't. Photo: Jamie Scott
So you're off to LA again, what are these big wave award nights like?
Corbett: Yeah, they're great, a good chance to do a bit of networking and catch up with the fellas. Despite all the glitz and glamour, it's still pretty hardcore really. There's probably only five guys in the whole room who do it for a living. The rest of them are like us, work hard and go on trips when you can.
Foster: They're pretty good fun but it's kinda funny. The venue is in the middle of nowhere so once it's finished, everyone's just standing around outside with nowhere to go.
 You could go to Vegas?
Foster: We did (giggles) won't be doing that again in a hurry.
Oh really? What happened?
Corbett: Nothing glamorous like in The Hangover, actually come to think of it, it was a bit of a letdown Vegas, nothing like you see in the movies.
So where to from here for you two?
Foster: I don't know really, we had a pretty good run and now we have to make a bit of money to pay for it all. But we got our sights set on a couple bombies around the joint.
Where?
Foster: Um, sorta down the coast a bit. That's about all I want to say.
Tracks