And who is likely to be dispatched? The Billabong Pro Cascais tells a story.
Gratifyingly good waves were on tap for a long and full day of surfing at the EDP Billabong Pro Cascais for the round of 48. Powerful, peeling left and right-handers, overhead at times, and some incredible rides throughout.
Joan Duru showed his experience after so many years on the WQS and now entrenched on the Championship Tour. Currently placed 18th on the CT he could do with a big result on the WQS just to keep him steady on the backup tour. He threw caution to the wind in his heat, banking a 7.50 and an 8.23, putting Deivid Silva in second place at the expense of Davey Cathels and Parker Coffin. Despite being somewhat of a veteran, Duru can chuck it into the air along with the best of them, pulling off a nice forehand air reverse with a soft landing for a big heat score.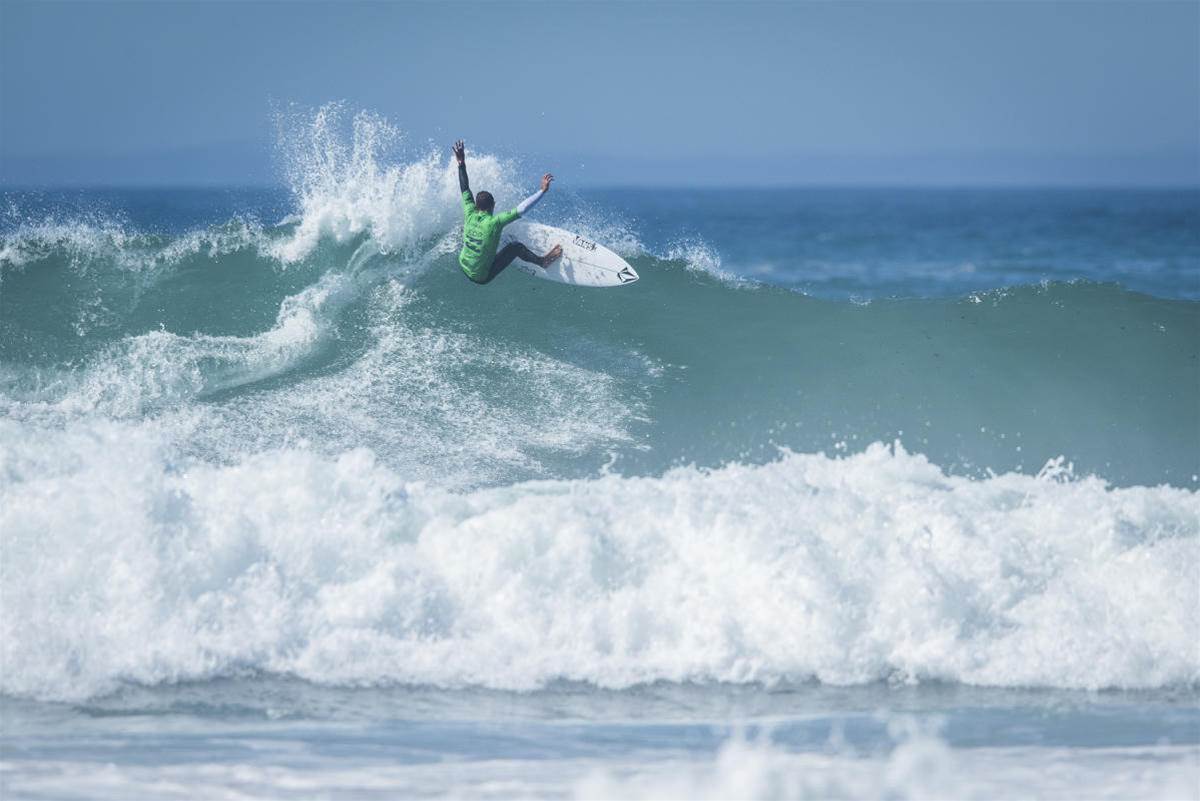 Joan Duru needs solid results on the WQS to secure his re-qualification. Photo:WSL / WSL/POULLENOT
There has been much attention to the no-nonsense surfing of Wade Carmichael this year after his solid surfing at the Ballito Pro earlier this year. He is the sort of surfer who will thrive on the Championship Tour, and he knows what to do to win. He did have a challenge though, up against 23rd-ranked Championship Tour surfer Italo Ferreira and former CT campaigner Ricardo Christie from New Zealand. Carmichael found one bigger wave in the heat and managed to smash it off the top for three giant, man turns and a score of 8.77 to put him firmly in the lead at the mid-point of the heat. He seemed to absorb some confidence from this wave, and followed it up with a solid left and some hard cracks for a backup score of 7.83 to advance with a solid score of 16.60. A beefy fellow, Carmichael loved the bigger sections.  Ferreira was trailing for a bit until he flew into a huge air reverse for 7.93 and a second spot. Noe Mar McGonagle was fighting until the final seconds, but could not do enough on his last wave and bowed out along with a disappointed Christie.
"I was really nervous out there, and I had the world's worst free surf this morning," said an elated Carmichael after his heat win. "It was freezing cold, I sat for half an hour and I got nothing, but it has warmed up now."
Carmichael mentioned that it was difficult to hear what the scores were out at the backline. "You've just got to bring your A-Game and put some waves together."
Carmichael is the highest placed Australian on the WQS at 12th place, but still needs to put a couple of thousand points more to his name to have a chance of making the CT cut. 
Wade Carmichael came within a whisker of qualifying a couple of years ago. He's obviously not leaving anything to chance this year.Photo: WSL / WSL/MASUREL
Then it was all about the ever popular and entertaining goofy-footer Jadsen Andre from Brazil. Sitting at a precarious 28th on the Championship Tour, he needs a couple of big results to keep his dream alive. Up against Mikey Wright and Connor O'Leary, he had his work cut out for him, with both surfers showing flashes of brilliance.  After trailing the heat until the last five minutes, Mikey Wright stood to attention and suddenly banked a surprise 7.67 for a set right-hander that he manhandled. He performed some solid turns in the pocket including a do-or-die floater over the inside shoredump to go directly from fourth to first. Mikey hung in there until the buzzer, and by advancing out of the round of 48 will see him definitely mover on up the rankings where he currently sits at 20th place. He's holding a junk score in his top five, so this result will see him rise up the rankings no matter what. Jadsen Andre advanced with him and he too will be happy with a round of 24. Everyone knows that Jadsen has the hunger within him right now, and his go-for-broke attempts in the shorebreak showed how intense it is. More like a death wish, or at very least a break-your-legs wish. The man is driven.
The irrepressible jades Andre. Photo:  
WSL / WSL/MASUREL
Surfline, official forecaster for the EDP Billabong Cascais 2017 and the Cascais Women's Pro, are calling for:
Mid period NW swell continues Thursday with the most size at Guincho, which will be in the head high/overhead range on sets (Carcavelos small).  Morning wind looks favorable. Another NW swell will build in Friday afternoon/evening and peak Saturday and looks a couple notches larger than the current swell. Strong N/NNW wind also looks likely for Friday afternoon through the weekend. A final WNW/NW swell is possible toward the end of the waiting period, around October 3rd.  
For full results of the day's surfing, as well as round two and three of the Women's Cascais Pro go here -
http://www.worldsurfleague.com/events/2017/wct/1942/cascais-womens-pro
or here 
http://www.worldsurfleague.com/events/2017/mqs/1941/edp-billabong-pro-cascais
Tracks