Jack Freestone enters the 34-man Battle Royale.
Excerpt by Luke Kennedy
When Jack Freestone soared to victory in the world Pro Junior as an 18-year-old back in 2010, most of us expected him to waltz onto the world tour. His surfing already had the strength and power of a rugby centre (a career alternative he had in fact turned his back on) and the pop of a slam-dunking NBA player. Freestone also seemed like the natural heir to that long lineage of Coolangatta surfers who have claimed frontline roles in pro surfing, from MP all the way through to Mick Fanning.
Jack, by his own admission, also expected the graduation from dominant junior to world title contender to be a relatively straightforward progression. However, history had a plan to humble the golden boy, who was perhaps a shade too handsome and talented for his own good. While Jack toiled unsuccessfully in his first forays onto the WQS he could only watch on as Gabriel Medina, one year his junior, made his presence felt on the world tour. Meanwhile Jack's close friend and former flat mate, Mitch Crews, got tossed around and bounced after just one year in the top flight. They were both journeys Jack watched from the outside looking in.
While the WQS formula initially eluded him, Jack certainly didn't let his overall act stagnate. He became world junior champ again in 2012, courted the most glamorous girl in surfing, made bank on a beer company and laid down stellar sections for those free surfing king-makers, Kai Neville and Taylor Steel.
Finally this year, after being a bead of wax away from qualifying at the end of 2014, Jack Freestone has arrived in the elite realm of pro surfing. In an era where the Brazilians are storming the gates of the WCT and threatening to challenge Australia's historical dominance of the sport, Australian surfing fans are elated to see Jack entering the 34-man Battle Royale wearing the green and gold colours. We want Jack to be nimble and Jack to be quick and like Mick Jagger howled, we hope Jumping Jack Flash is a 'Gas, Gas, Gas!' but only time will tell if Mr Freestone does all those things Jack is supposed to do.
Read the full interview in the new look Tracks, Issue 545 featuring Clay Marzo on the cover.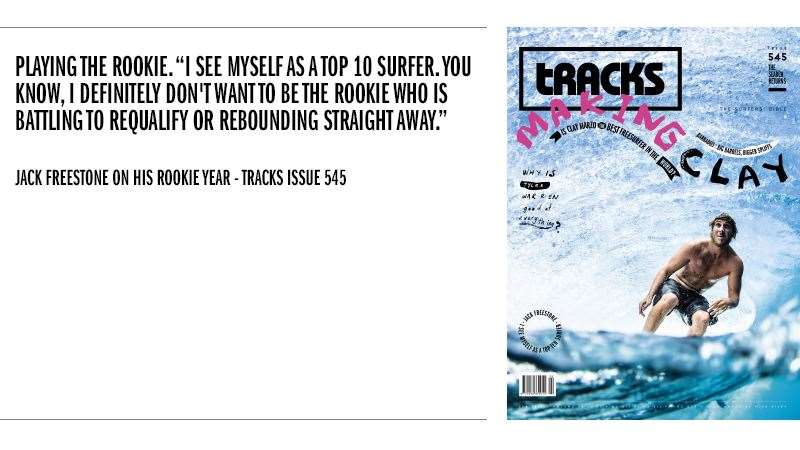 Tracks