There were some great moments in 2018. There were also a few fumbles…
It was a great year, and it was an entertaining year. Despite even less surf mags out there, less controversy and even less personality in the mix, there were some great moments in 2018. There were also a few fumbles…
Which emoji did you choose?
The Facebook deal isn't ideal. Many people hate Facebook, and as the company gets further embroiled in illegal data sales and privacy scandals for allowing companies to view private messages, so more and more people are leaving the biggest social media hub in the world. Teenagers in particular are leaving Facebook in droves, with many of them heading for, and locking into, Instagram. While many people believe that these privacy scandals that have rocked Facebook will eventually see the platform become another MySpace, the WSL has chosen it as their webcast partner. It's a strange decision to make, especially as the platform is currently stuck in a no-growth area and the companies' shares have taken a tumble.  Don't forget however, that while Instagram is more trusted and gaining in popularity, Facebook also owns it, so the security risks are still there, but we could have a WSL Instagram live feed any day now.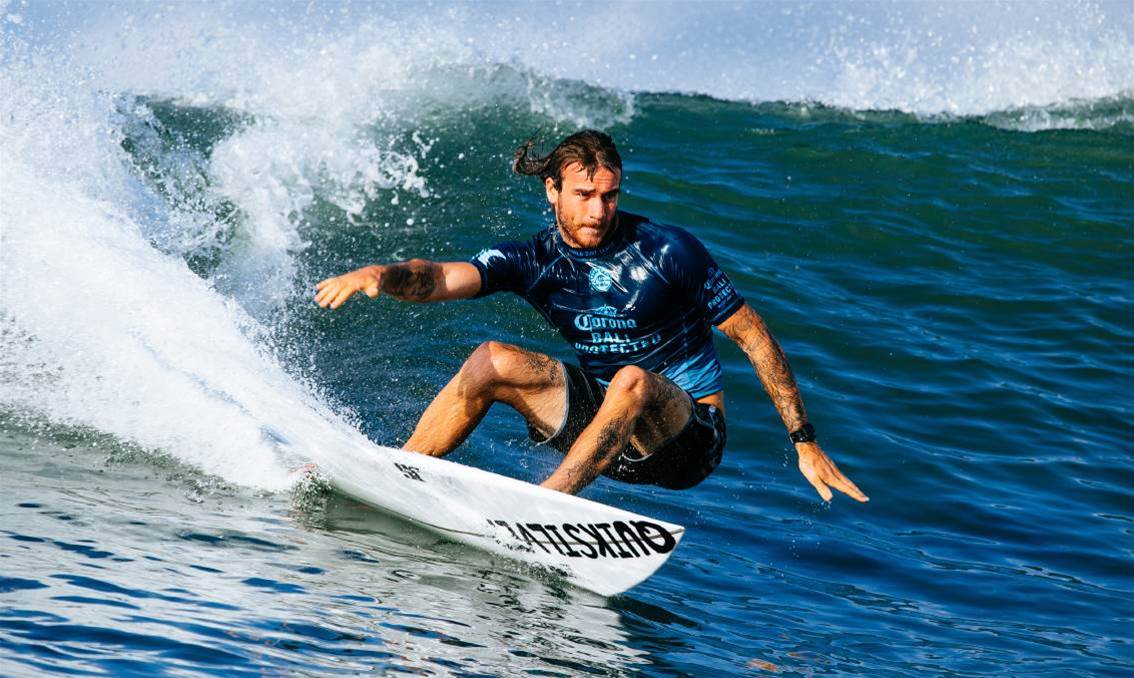 Expect to see Mikey Wright go full throttle in 2019. Photo: WSL/Sloane
Mikey Wright's buy into the 2019 CT felt a bit strange as well. For a process that is supposedly unscripted, his constant inclusion as either a replacement surfer or a WSL wildcard definitely ponged of a plan in place. If the WSL want someone to be on the CT then they can get that person on the CT without too much fuss. Many felt it not a fair system with regards to Mikey Wright's constant inclusion, but the kid did rip 7 colours of shit out of every wave he took off on pretty much, and provided much-needed flavor with his push and shove of Vans Triple Crown winner Jesse Mendes back in the Margaret River Car Park over a wave disagreement during the Margies event.
Similarly, Mikey February's failure to qualify was sadness. Some said that he wasn't' ready for the CT and others said that his lack of experience showed in some rookie errors and often a showing of nerves. He was however a popular player on the tour, surfed with an unfettered style, and ended up becoming a media darling as a result of some serious ripping, a couple of excellent clips doing the rounds, oodles of style at heavily – marketed events like Surf Ranch Pro and his great hair. So much so that he ended up signing a lucrative multi-year contract with Vans for a head-to-toe deal that doesn't require good competitive results, as well as further cementing his existing deal with Channel Islands Surfboard.  
Caio Ibelli's departure however, had less feel-good about it and divided the fans and the nations. Many people called foul of the WSL deal that gave the nod to John John and Kelly, at the expense of Caio. It was more a face-off between Kelly and Caio, with Ibelli calling foul of the deal. It should be mentioned however that Mikey February was the 2018 replacement surfer, and he got into every event, while next replacement surfer Miggy Pupo got into 9 of the 11 events, and with a minimum 9 events counting towards the year-end results, he was left with a fighting chance. There could easily be an injury before the Gold Coast Pro, or there might be a surfer retiring, and then Caio might get into all the events anyway. That would make the current posturing somewhat absurd. If you want to read some more about this online bravado, and see Kelly Slater come in to bat off some miscreant sniveling trolls, head to Caio's Instagram post.
Jordy's niggling underscores were something that was witnessed enough times for it to be a sub-plot, but it never became blatant enough for it to jump into the limelight. It might be because of blind patriotism or it might be because of latent bias, but it seemed there were enough times throughout the year when the big guy fell short by mere fractions that it felt a little bit unsettling. His fans online constantly mentioned it, and there was a vibe that he was definitely not in favour for the year. His quarterfinal at Ulus had a question mark next to it, as did his semi-final at JBay. His semi-final at Pipe was also a narrow call, and if those three calls had gone his way, then the Jeep Leaderboard would have looked way different come closing time.
Tracks