Brazilian Adriano De Souza is the 2013 Rip Curl Pro Champion.
| | |
| --- | --- |
| | Brazilian Adriano De Souza is the 2013 Rip Curl Pro Champion. |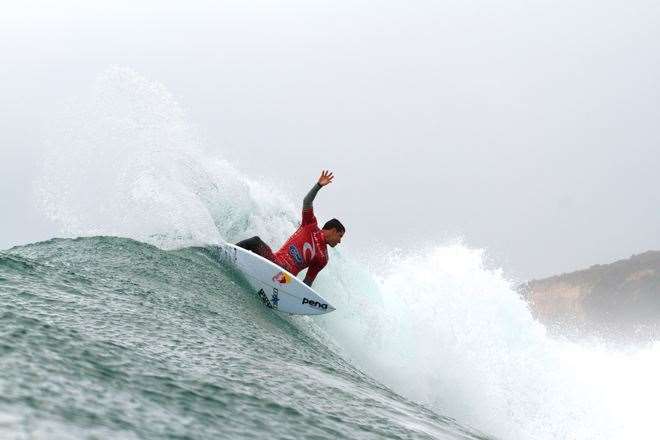 A look at Adrian De Souza's rail work from the water. Pic: Dunbar
In solid waves on the final day of the Rip Curl Pro presented by Ford, Brazil's legitimate world title chancer Adriano De Souza defeated rookie Californian goofy Nat Young in a very close final. And you saw it coming.
Although in the iconic events 52-year history it's always been Australian and American surfer's who have dominated – with such an eclectic field of nationalities mixing it in the top tier of professional surfing at present that dominance was due for a change.
Portugal, France, South Africa, they're all in the mix, but it was with the Brazilian's the safest money lied.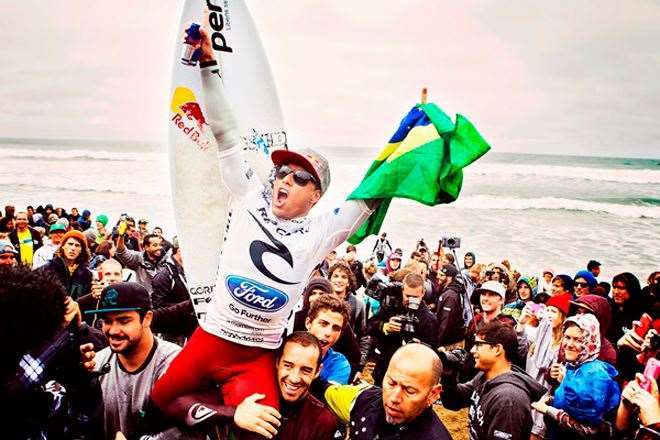 Chaired up by Brazil's Willian Cardoso and Portugal's Tiago Pires? Pic: ASP/Kirstin
"This is the most important event on tour to me," De Souza said after his historic win. "Guys like Andy Irons, Kelly Slater, my hero Mick Fanning, they have all rung the Bell. I have been coming here a lot of years. I love the place. It has been a tough time for me recently. I started 2013 without a sponsor for the first time in many years. I had to believe in myself that a company would believe in me and one did. I have to say thanks to Pena for believing in me. I have a lot of people to thank, but all I want to do right now is ring the bell."
Adriano has done well at Bells in the past, but never rung that Bell (till now). Aside from his statement above it's memories of him running around with a copy of The Bells Beach book by author Michael Gordon at the events 50th celebration and getting past and present surfing legends to sign it that tells me this was a monumental moment in his life.
De Souza, who posted a final heat score of 16.26 to better Young's 15.83, has now rocketed to fourth on the 2013 ASP World Tour ratings.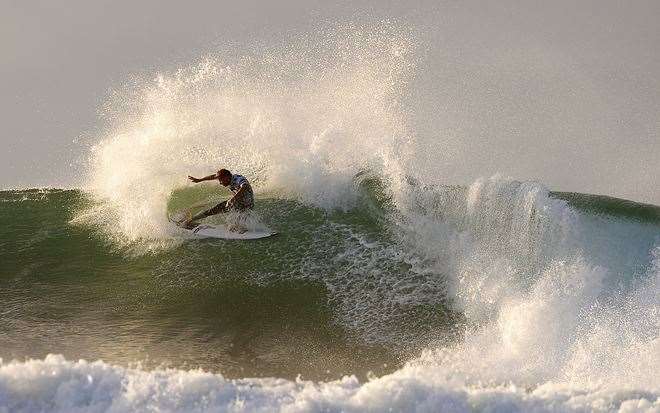 Aussie evergreen Taj Burrow's back foot blast. Pic: Dunbar
Thanks to fellow Brazilians Willian Cardoso and Raoni Monterio, defeating Kelly Slater and Joel Parkinson in round three (respectively), Adriano sit's well within reach of the number one spot going into event three in Brazil.
With his lightning fast power turns Adriano looked good from heat one and took down an improving Kolohe Andino in round three, smashed Raoni Monterio and CJ Hobgood in round four, sneaking by Mick Fanning in the quarters and just pipping Jordy Smith in the semis before stopping the in-form Young in the final.
Pumped with the win, Adriano talked about the road ahead, "Next stop is at home in Brazil," De Souza said. "I feel comfortable at home, but there is also pressure to perform. I am going to enjoy this win, recharge for the next one and hopefully I can keep it going."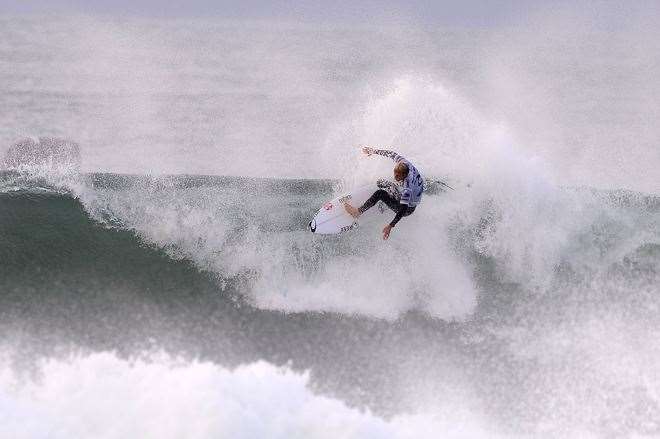 Mr Mick Fanning's up and over. Pic: Dunbar
Aside from Adriano's achievement, it was freckly-faced Nat Young's rise to the final that was the talk of the event. As a tour rookie and Bells event virgin he superseded all expectations. Surfing Steamer Lane back home in Northern Californian doing him no harm coming into Bells' Easter conditions.
Young's success not lost on his semi final opponent, Taj Burrow. "Nat (Young) has been surfing so well." Taj said. "He's a rookie, but he's really polished and really dangerous. I'll take a 3rd though and refocus for Brazil."
For Jordy Smith, his 0.04 loss to Adriano in the semi final was a hard one to swallow. But almost just isn't good enough in this game and Jordy's learning that. "Definitely disappointed that the score didn't come in for me at the end," Smith said. "I really wanted to ring that Bell and felt like I've been surfing well all week. Congrats to Adriano (de Souza) though. He's been ripping. Everyone's been ripping and there have been some interesting results. Makes the year interesting. I'll take the momentum into Brazil."
Read Adriano and the Boys from Brazil claim Bells Luke Kennedy's blog.
Highlights from the 2013 Rip Curl Pro Bells Beach will be available via www.live.ripcurl.com
RIP CURL PRO BELLS BEACH FINAL RESULTS:
1 – Adriano de Souza (BRA) 16.26
2 – Nat Young (USA) 15.83
RIP CURL PRO BELLS BEACH SEMIFINAL RESULTS:
SF 1: Nat Young (USA) 15.10 def. Taj Burrow (AUS) 13.43
SF 2: Adriano de Souza (BRA) 18.44 def. Jordy Smith (ZAF) 18.40
RIP CURL PRO BELLS BEACH QUARTERFINAL RESULTS:
QF 1: Taj Burrow (AUS) 15.50 def. Kai Otton (AUS) 14.50
QF 2: Nat Young (USA) 17.27 def. Willian Cardoso (BRA) 14.83
QF 3: Adriano de Souza (BRA) 14.33 def. Mick Fanning (AUS) 13.76
QF 4: Jordy Smith (ZAF) 16.77 def. Filipe Toledo (BRA) 13.20
CURRENT ASP WCT TOP 5 (Following Completion of Rip Curl Pro Bells Beach):
1. Kelly Slater (USA) 11,750 pts
2. Mick Fanning (AUS) 11,700 pts
2. Taj Burrow (AUS) 11,700 pts
4. Adriano de Souza (BRA) 10,500 pts
5. Joel Parkinson (AUS) 9,750 pts
5. Nat Young (USA) 9,750 pts
Tracks