The Search goes into outer orbit...
Like some of the best stories, this one began with a whispered rumour of some obscure islands. It sounded a bit tenuous, to be honest. The remoteness and vast distance of the islands from home exacerbated the sense of doubt. However, whereas some rumours degenerate and trail off into apocryphal myth, this one became full bodied and real. A local guy, Ram, had made contact with legendary photographer, Ted Grambeau, who'd been a long time inspiration for Ram.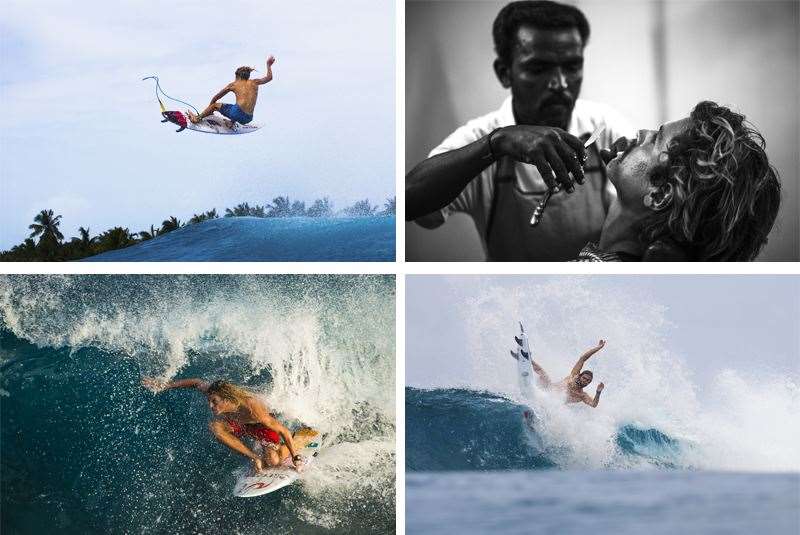 Not surprisingly, Ted's typical auto search mission response fired up. He is so well travelled he makes Christopher Columbus seem like a couch potato, and Ram's delectably dangling carrot was another irresistible mission. We gathered a crew who seemed suited to an honest roll of the dice. For Australian Luke Hynd and Americans, Dillon Perillo and Pat Curren, this would be no easy lob to some overexposed tube festival. Instead it would be a series of high road/low road gambles; pick a mysterious looking trail and charge it with your mind open and your board under your arm. 
Soon we were applying for visas to gain entry into a distant, northern land of ancient history and endless tales. The pantheon of deities and mythological beings associated with this huge and colourful country – gateway to our ultimate destination of the Turquoise Island Archipelago – is dizzying. Multi-limbed humanoids; anthropomorphised creatures with animal bodies and human faces; esoteric gods engaged in fantastic conflicts and ancient feuds set against dramatic backdrops of biblical proportions; entities of karmic consequence demanding appeasement in exchange for favourable outcomes.
For the full feature pick up Tracks Issue 545 … on sale now.
Photos and words by Sparkes
Tracks